---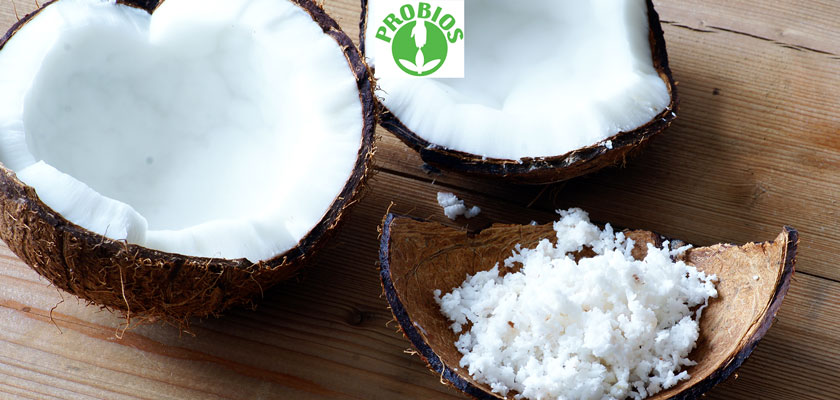 The coconut has always been known by the inhabitants of the Pacific islands as a real elixir for the health for its many uses, and the coconut palm is also called "Tree of Life"[1].
For us, in the west, coconut is an exotic food, fresh and typical of the hot seasons, that we easily find on the beach. Just a few people know that this fruit can be used to create a huge variety of tasty meals, excellent to enrich our traditional diet. Let's find out the
full range of Organic Coconut by Probios
!
When we open a common coconut, we can taste its pulp. From the pulp, we can obtain the
coconut chips
, with no added sugars, great to add to muesli or yogurt, or to enrich biscuits, cakes and recipes.
Through the grounding of the dry pulp, we obtain the
coconut flour
, with its persistent flavor, great to prepare cakes and biscuits, or to thicken sauces and custards. We can also use it to prepare a fresh drink, melting a tablespoon of flour in a glass of water. Packed in a practical closable bag, it's gluten free guaranteed and high in protein and fiber.
From the younger coconuts, we can obtain the
coconut water
, a completely natural drink, refreshing and high in minerals. The one
Probios
offers comes from the "King" coconut variety, and has a pale orange color, it is great as a refreshing drink or as an ingredient for smoothies, cocktails and exotic recipes. It's naturally sugar free and represent an excellent source of potassium, since it is extracted from the fresh coconut and bottled within 36 hours.
From the coconut we can also obtain the
milk
, a great alternative to dairy milk and cream. It's used for many exotic flavored recipes, like curries, soups, refreshing drinks, cakes and puddings.
Another alternative, the
coconut oil
, that can be used as a cosmetic products, but also as an ingredient to cook and season. With its scented and sweet flavor,
Probios'
coconut oil is a delicious plant based alternative to butter. It's used to fry, to prepare cakes, and for many exotic recipes. This product is cold pressed, which means that neither the pulp nor press are over heated during the process of extraction, to preserve the organoleptic and nutritional values of the product.
Last but not least, from the yellow coconut flower's nectar, we can obtain the whole
coconut sugar
. The one from
Probios
is extracted through handmade and natural processes, without using any chemical. In a practical closable bag, it is used in the same way as the traditional sugar and its flavorful and exotic scent enriches drinks, teas, herbal teas, cakes and ice creams.
[1]SOURCE: Greenme.it