---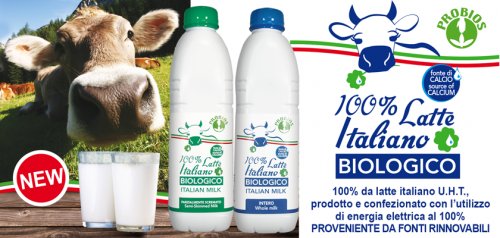 Thanks Probios! Finally I have found in my retail store organic ITALIAN cow's milk not from the fridge semi-skimmed, which I keep as a reserve in the pantry. Other types of UHT milk, however, have much longer maturities than yours, it should be long shelf life, shouldn'it it?
Organic milk with a long shelf branded Probios, either neat or partly skimmed milk, spoils after 90 days from the production date; actually on the market you can also find milk at six months of expiration.
Our Italian organic milk undergoes a heat treatment by steam, for a very short period of time and the most delicate possible in order to avoid "stressing" milk too much.
It is among other things a milk in absolutely recycled PET bottles and not in tetrapack, so the shelf life is different from polylaminate (tetra).
We do not deal with mixtures but with high quality milk and for us it is important that the 90th day you as a consumer still manage to drink a good product and not something that you only remember at organoleptic level.
The bottle has a double safety seal and the hermetic sealing of the lid allows you to keep the product in the best way once opened in the refrigerator.
However, we would like to inform you that starting form this production we were able to extend the storage of the product to another 10 days!
write your questions to our office quality:
Diese E-Mail-Adresse ist vor Spambots geschützt! Zur Anzeige muss JavaScript eingeschaltet sein!