---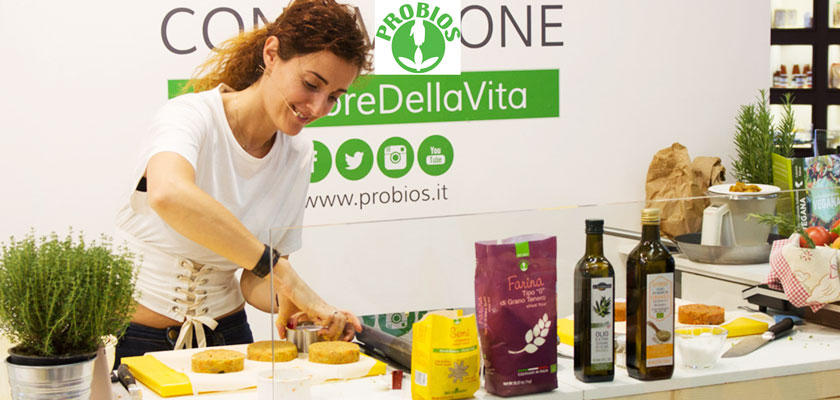 As always careful about the health of people and the environment, during the 29th edition of SANA, Probios wanted to give mums a concrete help on how to introduce fruit and vegetable in the diet of their kids.
To do that, they asked for the help and the experience  of two experts, the vegan chef Gabriele Palloni and the mum and blogger Anna Bardazzi from 50 Sfumature di Mamma. Together, Anna and Gabriele created a showcooking and two delicious recipes for the kids (and not only for them).
"
After all the awareness campaigns, letting kids eat seems to have become a real problem
" – explains
Anna Bardazzi
– "
I choose baby-led weaning for both of my kids, that have immediately sat at the dining table with me and started to eat what I prepared for us as soon as they were able to. But I also have a kid who eats just a couple things. What I have learnt, in my day to day life, is that regardless of the personal taste, sometimes the problems with food are connected to many other aspects. There are many ways to help our kids to discover new flavors and new dishes. One of them is obviously fantasy: what the eyes see is sometimes more appealing than what their stomach says, and sometimes curiosity brings results. The method that works the best for me is to involve my kids into the preparation of food. Those who follow me on social media know that I often let my kids cook, and it happens almost every day
".
Both recipes from
Chef Gabriele Palloni
, the
Vegan Burger with sauces
and the
Apple Fritters with sesame and hazelnut spreadable cream
, are perfect to be prepared with kids.
"
Often, mums struggle to make their kids eat fruit and vegetables, but sometimes the trick is to pay attention to shapes and colors to stir up their appetite
" – says Gabriele Palloni – "
for example, the burger is usually really appreciated. To make it look like the traditional, meat based one, you can add some beet to it to make it look darker and to avoid our kid's refuse. In case of the apple fritters, the recipe can also be varied with other types of fruit or – for a greedier version – you can add chocolate chips to them
".
For all of you mums out there, here are both recipes:
Burger Veg with sauces
Apple fritters with sesame and hazelnut spreadable cream