---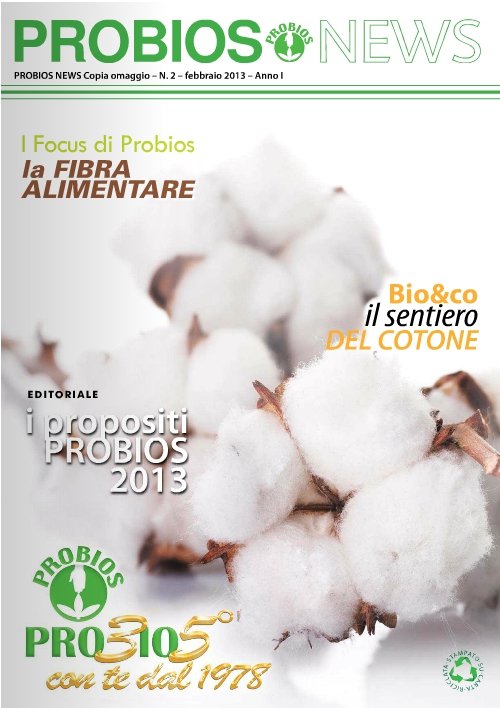 Dear Reader,
with pleasure I present the second number of Probios News.
I hope that, in the January number, you may have found useful informations to know more about our products and the world of Probios.
With this editorial, our aim is to enable a direct line with you, to improve and to get you actively participate in our activities by sending us your suggestions and your advices.
The year 2013 is starting to take shape now and we hope it will be a year that will allow us all to live a better reality.
Better on a human level, where each of us put in the first place values such as love, respect, solidarity and tolerance. Better on an economic level, to stop seeing young men with dead eyes because they can not imagine a bright future, or a father with sad eyes because he has difficulty bringing up his children. Better for work, freedom and dignity are a right for all.
This we have to demand it and to do this we need to be active and do not suffer from the events. We have lots of media, primarily the Internet, where information flows fast, it is our duty to be an active part of the information circulating. Awareness and dissemination are the strongest weapons in our possession and with these we need to take our struggles to actively contribute to the change.
Eating organic as well as health and love for oneself, means also stop using chemical pollutant, GMO products, respecting the environment that surrounds us, treating Mother Earth with love. We need to do great things, but sometimes the small daily gestures are important for millions of people to be able to influence the behavior of people living on our planet.
I am confident that this will be a year of awareness and change and this is what I wish for all of you, in fact, from difficulties the finest companies are often born and have forged the most enlightened people.
Let's smile at the future with optimism, let's this torpor be shaken off and with joy let's believe in a bright future.
Best wishes,
Fernando Favilli
President Probios LTD