---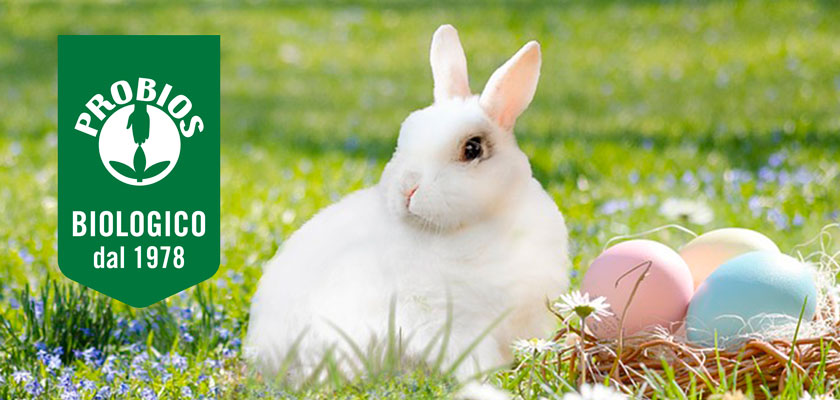 Those who choose a vegan diet can still celebrate Easter according to tradition with Probios!
Let's keep our good intentions of no waste and health even on Easter day by making conscious purchases! Particular attention to the environment can affect especially those who have chosen a vegan or vegetarian diet or simply decided not to consume products of animal origin.
Whether you are vegan or not, proposing a
vegan menu for Easter
could be a trump card to enliven an event that is too formal. Family reunions are one of the most difficult situations for vegans and vegetarians: the granny who is convinced that the ham is not meat, the aunt that pushes to try some of her specialties, the cousin who makes fun of that "special diet" and on the table it seems that there is almost nothing to eat... But if you think that vegan cuisine is necessarily not very tasty and low in calories, you couldn't be further from the truth!
Everything clearly depends on the skill of the cookers but the vegan and vegetarian cuisine can not only satisfy the palate, and the other senses too, but also give that sense of satiety that is so much sought after during the holidays.
We offer you some
alternative menu ideas for Easter
, meat less but with a rich variety of foods, and that will guarantee you an ethical and tasteful Easter lunch, from appetizers to desserts.
Let's start by saying that every animal origin ingredient has its substitute: soy butter (or oil) takes the place of lard in the dough, while in the filling the vegetable cream won't make the cheese regret, and instead of small pieces of cold cuts you can pick with soy sausage, seitan, smoked tofu. On the web and on our website you'll find numerous and tasty variations on the use of these products. But let's get to us, you can start with carrot chips. Yes, exactly like those with potatoes.
Following, legume balls, leek and potato cake, various crudité accompanied by a very good
chickpea humus
. An alternative first course? Definitely oriental-style ravioli that contain a delicious filling of vegetable lentils ragout, or ravioli with caramelized onions. You can continue with a salad of artichokes, wheat and olives that can serve, as well as a reinforcement salad, as a first course thanks to the addition of cooked wheat. Let's come to the main courses... Do you love the intense and sweet taste of the scallops? The proposal is based on tofu with mushrooms. If you can't miss the classic roast, try the one made of seitan with potatoes! If you are not particularly fond of soy, seitan and tofu, you can use the classic greens and vegetables.
Don't worry, there are not only grilled vegetables. The first tips is that of an excellent Ratatouille. For lovers of spicy and oriental cuisine, we suggest the Cauliflower Cous Cous. Speaking of side dishes, have you ever tried making peas and mint purée? He doesn't need cream or milk or butter to be delicious.
But there is no Easter without cakes and without a "dove" cake! Probios offers its
vegan Easter sweets
: the
Vegan Easter wheat cake
 is 100% vegan certified by the Vegan Society, with mother yeast sourdough that gives it its natural softness. Produced without palm oil but with only sunflower seeds oil, the recipe is guaranteed milk- and eggs-free, therefore suitable for those who follow particular diets without giving up taste. And what Easter would be without chocolate eggs? In fact, the other proposal is the Dolce Pasqua Vegan - Egg, in the
dark version
,
with soy drink
and
white with soy drink
. 100% vegan, gluten free, milk free and with fair trade cocoa, Probios Easter eggs are produced with organic raw materials, do not contain any food of animal origin, but a nice surprise!
Best wishes for a sweet
Vegan Easter
!