---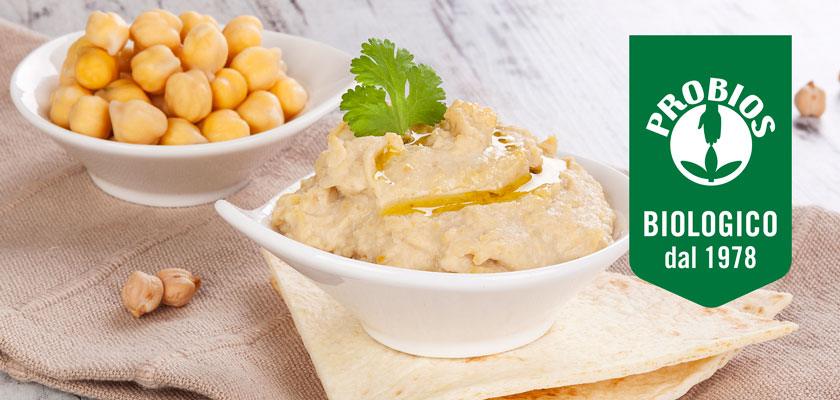 As we anticipated at the beginning of the year, we have several innovations in the pipeline, which we will present to you during this 2019 which is definitely tasty!
Always taking your preferences into great account, we added another taste to a products line by Il Nutrimento that have been very successful for versatility of use, fanciful taste and precious nutritional properties. We are talking about the organic Hummus!
Hummus is a food known throughout the world: its origins are very ancient (it's also mentioned in the Bible), and many Middle Eastern countries claim paternity, even if it seems that the original recipe comes from Lebanon. It's a delicious
gluten-free vegan sauce
based on chickpeas (hummus in Arabic) and sesame, very welcome by children too and a great way to promote pulses consumption.
With spring wind, we gave a new graphic look to the
original organic Hummus
, with Italian chickpeas, and to the
spicy organic Hummus
, with an intriguing curry flavor, and added a third taste, the
organic Cannellini beans Hummus
: enriched with typical ingredients from the Mediterranean area such as dried tomatoes, olives and capers, this new aromatic-flavored sauce is excellent for countless vegan preparations.
After the winter aperitifs, the Hummus will be the protagonists of the vernal picnics for snacks, canapés or along with crudités. Their creaminess and flavor make them perfect for adding an extra touch to sandwiches and wraps made with vegetables or vegetarian meatballs.
We are a little repetitive, but we want always to remember that our products are all vegetarian and bear the European organic identification logo.
The three Hummus are also gluten-free, so they are suitable for those suffering from celiac disease or intolerances.
We just have to schedule you with the next tasty novelties coming up and wish you a spring outdoor, with healthy and tasty picnics put on with all our delicacies!