---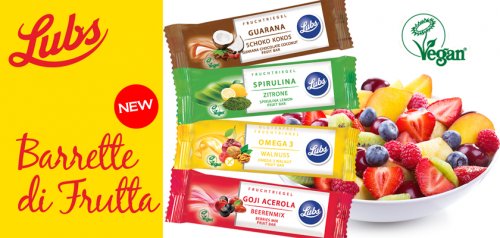 Journey to the discovery of the best producers selected for you by Probios
LUBS, natural sweetness
We meet one of the most innovative companies in the production of functional and health foods in Europe: the Lubs company.
It all began in 1982 when Michael Lubs, the company's founder, began in Kiel (Germany) the production of organic fruit bars, unique in its kind. From the beginning of its activity, the company Lubs has in fact avoided the use of substances such as artificial flavors and sweeteners and, wherever possible, the use of sugar and honey, characteristics that are still alive and present in today's productions.
Limiting the use of sweeteners, the choice of raw materials becomes crucial because it determines the success of the finished product, these are in fact the ingredients that make this product unique for texture, smell and taste. The choice also evaluates the right degree of ripeness of the fruit, another factor that affects in a decisive way on the final taste of the product.
"Natural and integral"
This is the basis on which the company produces its delicacies, this is particularly true for the fruit bars.
The genuine and pure flavor of the fruit joins togehter with cereals and spices. The production involves a process of cold pressing of the ingredients, this procedure leaves unchanged the precious nutrients because they are not in contact with the heat.
The company's philosophy reflects the lifestyle of its founder, Michael Lubs who often speaks of himself as a person who lives in close contact with nature.
That's why the Lubs company only uses ingredients from organic farming. In addition to this the company, when possible, tightens fair trade relations with production partners seeking for fair trade ingredients and certifying some of its many products.
Lubs also offers a wide range of guaranteed gluten-free bars, many of whom are also Vegan certified granted by the renowned British Vegan Society Association. Some formulations are also designed to provide energy, so they are perfect for those who do sports or physical exertions!
Fruit Bars
Made with juicy fruit, spices and dried fruit, these tasty bars are perfect for a break or a snack.
Gluten free bars
All the goodness of the best organic fruit,without yeast, without added sugar and gluten-free, ideal for a break at any time of the day.
Energetic bars
Lubs offers 3 snacks made from fruit and cereals for energetic activities. They contain no added sugar and are made with the best dried fruit that gives pure and immediately available energy.