---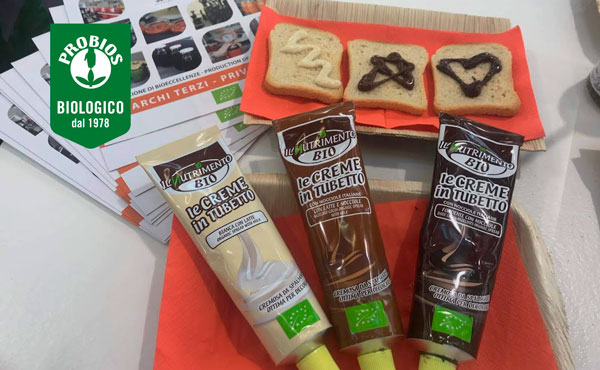 In these days the Probios newborns branded Il Nutrimento have been officially presented at the 2019 Marca Fair in Bologna: organic gluten-free creams in tubes, in different versions, both sweet and salty, perfect for snacks and breakfasts.
The taste is original and delicious, capable to satisfy even the most spoiled palates and here at Probios we are particularly proud to have also increased the sweetness at the "tube" with our
organic creams in tubes
!
We are used to consuming sauces in tubes of all kinds, but our innovation was packing, in a practical recyclable aluminum tube, three flavors of sweet spreadable organic creams to be tasted on bread, with biscuits but also to decorate your desserts and add that extra aesthetic touch.
The
Organic Creams in Tube
in the versions
White with Milk
,
Dark Chocolate with Hazelnuts
,
with Milk and Hazelnuts
are original recipes created in the laboratories of Il Nutrimento with organic and high quality products.
Their goodness has been tested successfully, by competent visitors, during the 2019 Marca Fair, on simple rusks that have been transformed, from a veil of spreadable cream, into delicious and attractive mini desserts.
Their practical use allows them to be used also for decorating homemade organic desserts and, those who like to spend their own confectionery creativity, know how it's difficult to find organic products suitable for this purpose.
We are sure that, besides finding them excellent on their own, you will discover innumerable uses in your recipes.
So send us your favorite organic recipe with
Organic Creams in tube White with Milk, Dark with Hazelnuts, with Milk and Hazelnuts
and also with Savory Creams: Natural Soy Mayonnaise or with Turmeric and Ginger, Italian black olives cream, Artichokes cream, Hemp and basil cream, Italian tomato Double Concentrate.
Now everyone in the kitchen to experiment with the spreads in tube!