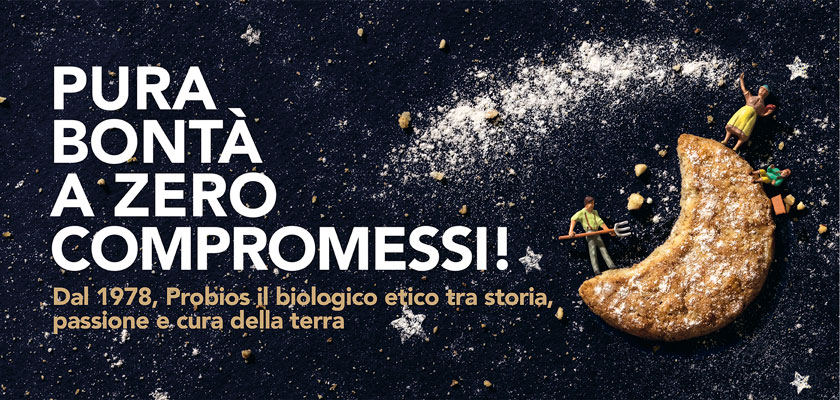 Every growth path is animated by a vision, a goal to be pursued and new targets to be achieved: we at Probios have always supported and promoted a precise idea of the world and of the future, around which we have structured our activity and our commitment.
For the closing of our 40th birthday celebrations we have decided to present a new communication campaign, on newspapers and on social media, centred on a focus dear to the company: an organic with no compromises that doesn't give up with taste and goodness, but declined in a modern key and forward-looking.
Against the backdrop of an ever-changing food universe, the new Probios institutional campaign relates the evolution of healthy diet, identifying it as the key to a better tomorrow and addressing an attentive consumer, looking for a new, more real and sincere contact with the surrounding nature.
The new claim, PURE GOODNESS WITHOUT COMPROMISES, is thus at the center of an image in space: a farmer works with a pitchfork on the ground of a half moon formed by a biscuit, together with his family. The crumbs that come off go to join a galaxy in the background forming new stars. The return to the land creates new possibilities.
Today rediscovering contact with the earth and its care is a necessity more than an aspiration. The relationship between man and nature needs to be reactivated on new foundations, starting from mutual respect.
The awareness was the starting point for the new advertising, dedicated to a pure organic that, citing the campaign slogan, doesn't compromise with quality, as only experience can guarantee. A tenacious organic that combines past and future, tradition and innovation, passion and research, to rediscover the authenticity and genuineness of products made as they once were, but with an eye always to the future and aimed at diffuse a widespread wellbeing.
Eating in a tasty and sustainable way is a possibility that needs to be announced. Under the new campaign main subject, a clear and important message appears: everyone can contribute to spread a new idea of the world and of the future, not limiting themselves to appearances, but finding out about food choices, paying attention to the composition and guarantee certificates of the food they buy.
The second campaign, dedicated to the vast line of gluten-free Probios products, will be launched in September, during the most important national fair of the organic and natural sector, the Sana at Bologna.
Probios organic is all of this: sustainability, foresight, experience, quality. In a nutshell: pure goodness without compromises.