---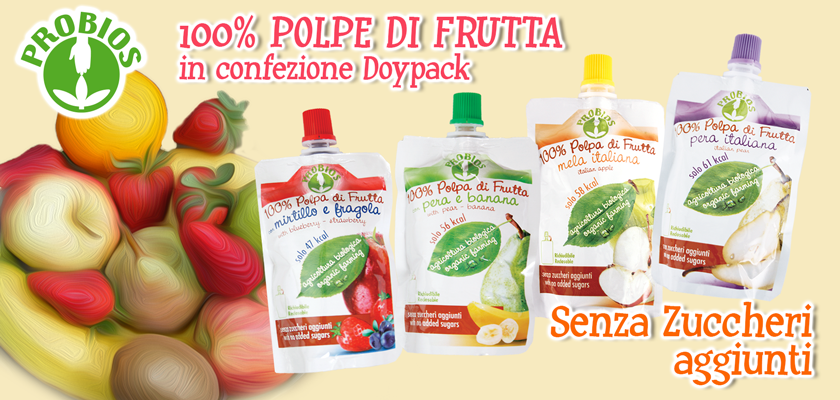 THE AUTHORITATIVE GERMAN MAGAZINE FOR CONSUMERS ÖKO-TEST HAS TESTED 15 DIFFERENT PRODUCTS DISTRIBUTED IN THE COUNTRY.
THE RESULT: THE ONLY BRAND THAT RECEIVES A "GOOD" OPINION IS THE TUSCAN COMPANY LEADER IN ORGANIC PRODUCTS.
No sugar added
(although natural),
great ingredients
,
no pesticides
,
no chlorate
and other controversial substances: these are the main reasons why the Italian company Probios was the only one to pass with flying colors a rigorous analysis recently published by the German magazine
Öko-test
, the influential magazine of consumer advocacy.
The
fruit pulps
sieved by Öko-Test - publication that sells about 180 thousand copies per month and reaches nearly a half million readers - were 15, all in
handy doypacks
: of these, as many as 9 were severely or moderately insufficient, 5 sufficient or discrete and only one - the Probios pulp of fruit with pear and banana - "
gut
" or rather
good
.
The attention of the prestigious German magazine is in particular directed towards the
presence of pesticides in the packages and the amount of sugar
and the relative
risk of caries
.
The fruit pulp in doypacks are indeed mostly aimed at
children
, and parents buy them for both their practicality and to promote the consumption of fruit for their children. According to the magazine, it's clear that many companies, just to make pulp sweeter and therefore more appreciated to children,
add fruit concentrate
: a natural ingredient, of course, and that has nothing to do with the refined sugar; but that
increases in a non-natural way the percentage of fructose normally contained in fruit
(about 10% in apples and pears, for example; or 17% in bananas). The Probios pulp has thus showed a percentage of sugar of 10.8%, in line with the natural doses.
"
Such acknowledgment, which comes from one of the countries most attentive to issues of healthy eating and organic food, rewards our constant commitment to offering our customers the best organic food.
" said
Fernando Favilli
, President of Probios Group. "
For us, goodness and reliability of the products are a categorical imperative, which doesn't admit exceptions.
"
Discover online the
products details
!