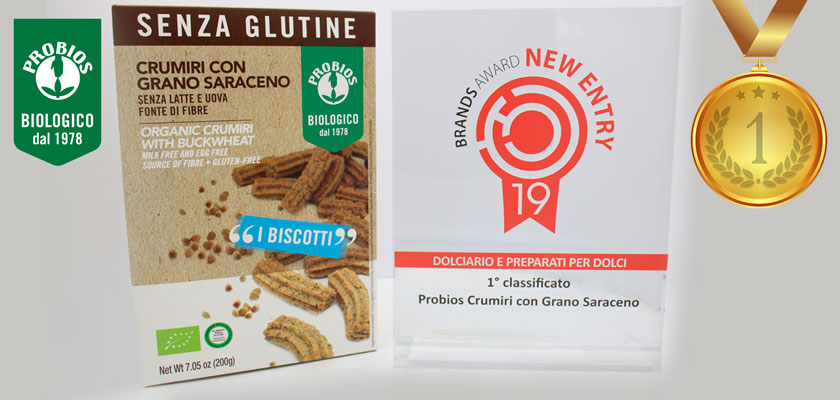 The Probios group has been awarded in the special category New Entry Confectionery and dessert preparation to the 2019 Brands Award with the product "Gluten-Free Buckwheat Crumiri".
The award ceremony of the 2019 Brands Award took place in Milan, Thursday 4th July, at Palazzo Parigi. Brands Award, organized by GDOWEEK and MARK UP in collaboration with EldomTrade by AE, is the only initiative that rewards the best annual brand performance in consumer goods through objective and verifiable criteria (IRI and GFK sales data) involving final consumers and modern retail. All the consumer goods on the market today participated automatically in the Brands Award and the products in nomination were subjected to two other levels of judgment: consumers, jury of buyer/category/purchasing managers of the DO. The winners were therefore the result of three rankings which, weighted equally, indicated the category winners and the overall winner.
"We are very satisfied with the prize received - says Fernando Favilli, Probios' President.- Our Crumiri have had a positive response not only from the buyer jury but also from consumers. Consumer satisfaction is our goal and is an indication too of the good work we are doing. Probios is dedicated to the mission of producing organic food while respecting the environment and the right to eat tasty food, even in cases where food intolerances or pathologies limit creativity in the kitchen. A rich breakfast and a nice pasta dish should never be lacking in daily food, along with seasonal fruits and vegetables".
The Probios Buckwheat Crumiri, launched on the market last May, are delicious biscuits inspired by the Piedmontese tradition, produced with buckwheat and oats, without milk and without eggs, perfect to sweeten and make breakfast crunchy or to accompany a dessert wine. From the mid-1800s the particular form of the classic crukiri is inspired by the mustache of King Vittorio Emanuele II, for biscuits worthy of a royal breakfast. Probios Crumiri are a source of fiber, guaranteed gluten-free and loanable by the National Health System.
All winners will be published in the issue of Gdoweek dedicated to the prize, which was previewed for the happening.