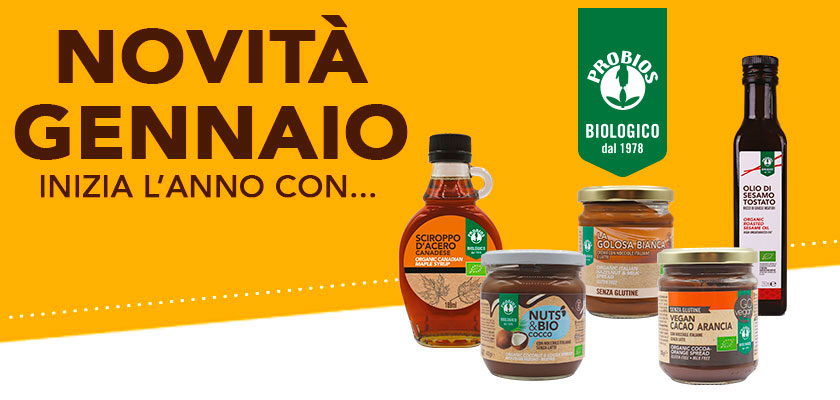 2021 has finally arrived and at Probios we have decided to kick off the new year with a burst of innovation in the name of 100% organic sprint and gluttony. So let's welcome our 5 new products of January!
For a sweet awakening, try the new Probios Maple syrup: original Canadian, it comes from the Quebec forests, famous for their intense and characteristic aroma. It's a grade A syrup, with a rather dark amber color and a robust and unmistakable flavor. The product is naturally gluten-free. Try it for your homemade pancakes, for an organic morning cuddle!
In the wake of gluttony, we present the new Vegan Cocoa Orange: a sweet organic spread based on Italian hazelnuts and cocoa, enriched with the fresh orange aroma. From the GOVegan line, it's guaranteed milk- and gluten-free and is made without palm oil. Its special creaminess makes it ideal for spreading on bread and rusks, but for your sweet preparations too.
Another long-awaited protagonist, which joins our beloved Golosa, is the new White Golosa: a 100% organic sweet spread based on Italian hazelnuts and milk. Guaranteed gluten-free, it's palm oil-free. With its characteristic light hazelnut color, it's super creamy, perfect to spread for breakfast or delicious snacks, but also for your sweet recipes!
Last but not least, a great news for coconut lovers: the Coconut Nuts&Bio! This delicious sweet organic spread based on Italian hazelnuts, cocoa and coconut is guaranteed gluten-, milk- and palm oil-free. Its delicious mix of cocoa and coconut makes it truly irresistible! Perfect to spread for breakfast or for delicious snacks, or for your sweet preparations.
Finally, a new oil enriches our already wide selection of seed oils: Toasted sesame oil. Cold pressed and rich in unsaturated fats, it's a naturally gluten-free product, with a dark color and a typically aromatic taste. It's an oil often used in typical South Asia recipes, such as in China and Japan, but also in African cuisine: it's therefore perfect for dressing salads, cruditeés or to give an Asian touch to your dishes!