---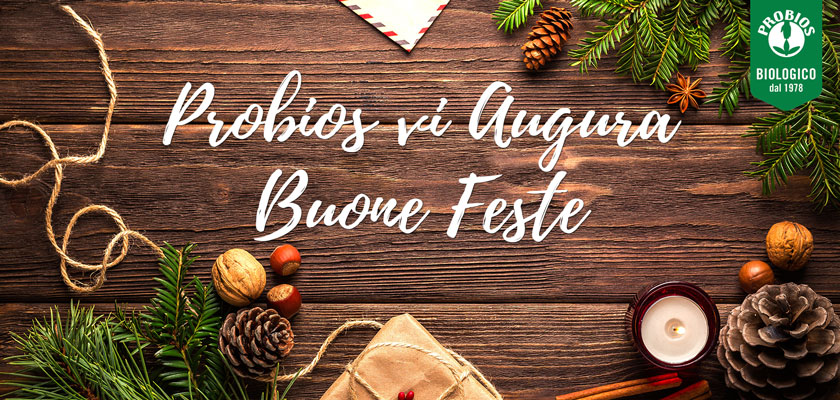 After a long year full of important achievements and satisfactions, the sweetest moment of the year has finally arrived and we do not miss the chance to wish you all the best: Merry Christmas from Probios!
From the fortieth anniversary of our company, to the new brand identity of Probios products, up to the launch of the new online shop, 2018 was a successful year during which we never stopped working for you, to give you always quality products respecting your health and the environment that surrounds us.
The iconic products of 2018
Wishing you Merry Christmas we want to go back over the products we launched during the year with you, who knows that they can be a starting point for last minute ideas to be served on your Christmas tables during these holidays, or an inspiration for simple but tasty breaks


Chickpea crispy crackers by Altricereali, innovative and ideal for a tasty break but excellent as a substitute for bread too




Pulses organic wrap by Altricereali, a special formulation based on pulses flour and a particularly soft product




Squbes snacks by Probios, a crunchy cube enriched with many small and tasty seeds ideal for a gluten-free organic snack




Burger buns by Panito, the first organic available in Italy and ideal for burgers, fragrant outside and soft inside




Gluten-free baked donuts by Rice&Rice, also available with chocolate chips, they are ideal both for breakfast and for an appetizing snack




Gluten-free rusks by Rice&Rice, together with donuts they are the only organic distribuited on the Italian market, also available in the integral variant, the rusks are light and crunchy




Dark, milk and white chocolate spreads in tube by Il Nutrimento, the latest novelty by Probios to end this year with a touch of sweetness: these delicious creams are perfect for breakfast and snacks, but also to garnish your freshly baked desserts


And if you already have enough of eating... you might think to prepare a nice basket and wish Merry Christmas to all from Probios!