---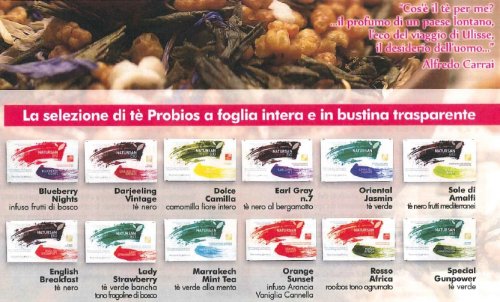 .. A journey to discover the best producers selected for you by Probios.
Today we present SNAK Ltd – La Via del Tè, a Florence company that operates in the field of tea and herbal teas for over 50 years. La Via del Tè was founded in 1961 by the dream of Alfredo Carrai, a true pioneer of tea in Italy who had disclosed the culture of this fascinating beverage in a country mostly accustomed to the consumption of coffee.
At that time in Italy, the consumer was mostly used to the use the so-called "packets", there were many varieties of tea completely unknown not to mention the poor distribution of leaf teas.
The desire to learn more about the second most drunk beverage in the world, leads Alfredo to make numerous trips in search of the rarest teas, the best crops, never losing the awareness that there is always a new tea to discover and taste.
The first trips to China, appear to be pages of an adventure book, in the midst of many difficulties, in search of white teas or teas of Yunnan; the first hard bargaining with plantations of Darjeeling, but there is the satisfaction of making known to the Italians, accustomed to sporadic consumption of black tea filters, the real world of tea. After fifty years the family business - in which each of the children is driving a different sector - is animated by the same passion of the early days. Every aspect, from the importation of the best collected from the countries of origin, to the creation of mixes and lines with the mark La Via del Tè, is carried forward in the balance between innovation and love for the details of the Florentine artisan tradition.
The company, doesn't just import fine teas, but realizes real blend by mixing flowers, fruits, spices and anything that can help to create a drink of high organoleptic quality.
The creation of the mixtures is entrusted to the tea-blender, who over time have honed sensitivity and knowledge of raw materials that enables them to interpret and understand the tastes of consumers.
Moreover, as for the wine, any kind of tea is determined by the territory, the climate of the year of collection and show differences although of the same type and origin so that the tea-blender must be capable of maintaining constant the quality of the mixtures choosing between the various crops that better lends itself. The department of mixing and flavoring of La Via del Tè, the only of its kind in Italy, produces hundreds of classic and flavored blends, fruit and herbal teas. "What does the tea represent for me? ... the smell of a distant country, the echo of the journey of Odysseus, the desire of man ... "
Alfredo Carrai