---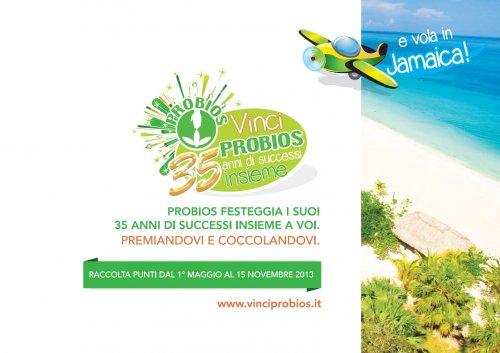 12,775 days of commitment, quality, respect and enthusiasm.
Dear Customer,
on the occasion of the 35th anniversary of the birth of Probios, a leader in the field of organic farming, we are happy to introduce the newest contest "Win Probios - 35 years of success together."
www.vinciprobios.it
This points collection wants to be, not only a way to celebrate our anniversary, but above all it wants to celebrate the loyalty of our customers who have allowed us to achieve this important goal.
Probios was founded in 1978 by a group of passionate people who wanted to disseminate in Italy, and why not also in the world, the philosophy of organic food as a basis for self-respect and respect for the planet we live in. We want to remember with affection our founders, real pioneers:
Ferruccio Ledwinka, a great expert on macrobiotics and natural therapies and Elvira Rigo de Righi, pharmacist and herbalist passionate about natural medicine that gave life to a dream that has finally come true.
In 1990, we, Rossella and Fernando entered to manage the company, with sacrifices we made Probios grow and with joy we create one of the best Italian companies in the field of organic farming.
Our story, full of passion, love for clean food and for our land, protection of biodiversity, was built thanks to you that have chosen us day after day, bringing our products to your table.
And so we want to share with you this result, which we are sure will be a piece of a long story that represents the heart of the Italian organic.
with affection
Fernando Favilli and Rossella Bartolozzi