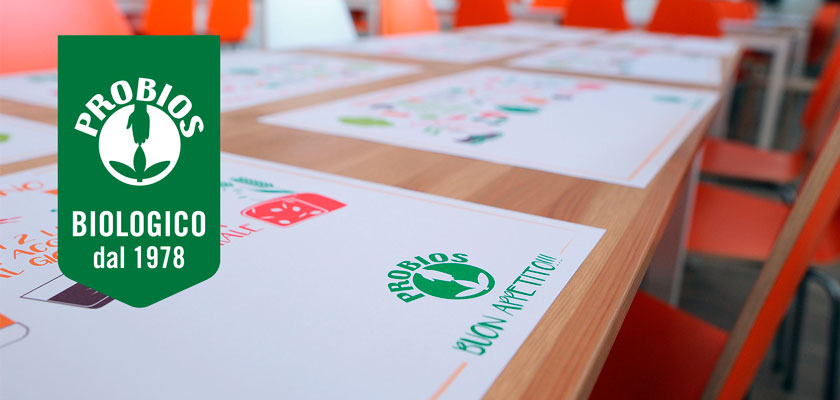 In order to keep body and mind active and healthy, proper nutrition is essential, even when consumed during work days.
In the hectic life of modern society, many meals are consumed outside the home. The lucky ones can take advantage of school or company canteens that in recent years are increasingly adding organic, thanks also to the Ministry of Agricultural Policies decree, which establishes certified organic canteens and promises incentives (44 million euros until 2021) for those who exceed a certain amount of organic products in the meals given.

Probios is not just a company that produces organic food, this choice comes from an ethics of welfare, state of well-being, of the environment and of the person: we can't think of making the general public aware of the well-being and correct lifestyles issues if we don't begin to promote and share them from within, taking care of those who contribute to making us a successful company. And since a conscious diet starts right from the lunch break, it's necessary to pay attention to these sometimes hurried meals.

In our organic company canteen, we use our products in preparations, giving priority to those under expiration to avoid waste. The menus are designed by specialized chefs who use seasonal vegetables and fruits from farm to table, but another important goal of the canteen is to educate to eat healthy and to adopt correct eating behaviors that will continue even outside of work.

And since physical activity is complementary to good nutrition, besides the canteen, Probios has activated a gym space where, after working time, employees and collaborators can take advantage of the equipment provided. The space also lends itself to numerous initiatives aimed at training such as cooking classes, conferences and anything else that can respond to the Probios group spirit.

Let's always remember that, inside or outside the home, what we put on our plate helps to improve us and the world around us.