---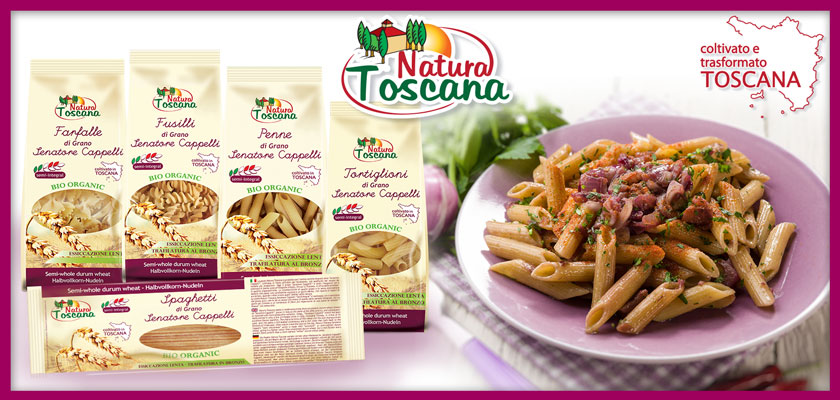 The
Senatore Cappelli Durum Wheat
or "Capelli" is a
autumnal cultivar of durum wheat
(
Triticum durum
), obtained at the beginning of the last century by the geneticist
Nazareno Strampelli
, named after the
Senator Raffaele Cappelli
, supporter and promoter of new wheat varieties with an agrarian reform.
For decades it has been the most popular wheat variety, especially in Southern Italy (Basilicata and Puglia), also called "
Chosen Race
" in the '30s and '40s, despite the low yield but very high quality, winning on the import of wheat from United States and Russia.
But the
low yield
is the root cause of its disappearance since the '70s, when it was replaced with other more productive seeds, subjected to genetic modification as
Croesus
, which now represents 90% of the world crop.
Fortunately, nowadays it has been rediscovered as a variety never contaminated by
mutagenesis
, and it's grown in a few privileged areas of Italy, by virtue of the
excellent organoleptic and nutritional characteristics
.
Because of its height (160/180 cm – 5/6 feet) and its developed root system, it suffocates weeds and is therefore very suitable for
organic farming
, the only method by which it's produced.
Senatore Cappelli Durum Wheat used by Probios is grown right in
Tuscany
, promoting
biodiversity
and
local agriculture
.
It's a very high quality wheat: rich in "
beards
", the filaments of graminaceous, and also very hard, so the pasta made with this
ancient grain
is always "
al dente
" and doesn't overcook ever.
Our "Semi Integral" pasta from the brand 
Natura Toscana
is made with durum wheat semolina, which gives it a lighter color than that of wholemeal flour, but a more intense flavor and a greater fiber content than a more sifted pasta of "white" semolina. The
slow drying process
keeps the flavor of true wheat and preserve the nutritional value.
Many sizes are available, the most part
bronze drawn
to get a rough pasta that absorbs well the sauce:
farfalle
,
fusilli
,
penne
,
spaghetti
and
tortiglioni
.
Check out all the range products from
Natura Toscana
, with this brand Probios wants to encourage the
Tuscany local cultivation
and discover
tastes
and
traditions
of our homeland.