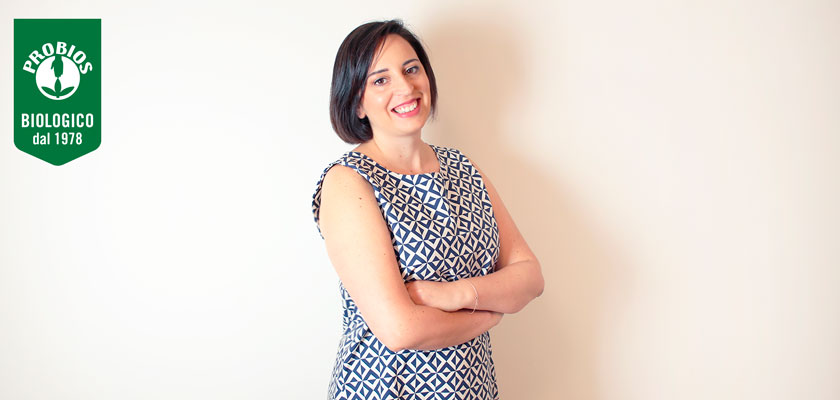 Hi Alessia, tell us a little bit about yourself, what is your study and work path that brought you here, as Probios Digital Marketing Manager?
Marketing and communication have always been my passion, which is why I chose to graduate in Corporate Institutional Communication. In July 2011 I chose to move to Milan to specialize in digital and for 3 years I worked on integrated communication campaigns, content creation, social media strategy and brand awareness analysis. In 2014, new opportunities brought me to Florence where, some time later, I met Probios.
Working for a reality like Probios has changed your eating habits?
I have always been following a conscious diet, paying attention to the ingredients and the origin of the products I put on the table. I am "reducetarian", or rather I have chosen to reduce animal meat consumption to almost zero. The meeting with Probios was therefore not entirely random, I like to say that fate couldn't fail to make us meet.
In fact, I think it's important to believe in the mission and project of the company you work for, especially in the communications area. Undoubtedly, it helps to be more consistent and credible.
What is the most interesting and fun aspect of doing Digital Marketing Manager activity for a company like Probios?
Identify yourself in the consumer, always look for ideas and stimuli to promote products in the most "palatable" way by selecting the most correct communication channel. The food sector is complex, but you have a lot of space left for creativity and inventiveness. An original idea can really play the difference and this daily challenge is the engine of my work.
What are the major critical issues in the virtual world related to ORGANIC?
The critical issue that I most often face is the difficulty to effectively communicate the added value of what "organic" means. The key lies in making people understand that the food choices we make are a mirror to understand who we are and how we relate to the world: the first step towards a more conscious consumption starts from us. It's not always immediate to have this passage understood.
Which are the Probios professionals that you consider an incentive for your work?
In Probios we are a team of one: the whole team is a source of continuous stimulation for me, each with a different aspect and with its own characteristics. Sharing ideas and opinions is the order of the day and it is properly this that makes us the leading company in Italy in the distribution of organic vegetarian foods for over 40 years.
What would you recommend to those who want to take up the digital marketing as a career?
Needless to say, digital marketing is one of the most dynamic and constantly evolving sectors in the marketplace. The institutional/corporate communication on the digital side always follows variable trajectories, which reflect the trends of the reference market. Undoubtedly there are rules and methods, but it's a continuously updated frontier. If I had to find the perfect recipe for those who want to work in this field I would say: continuous training, curiosity and a strong problem-solving approach.