---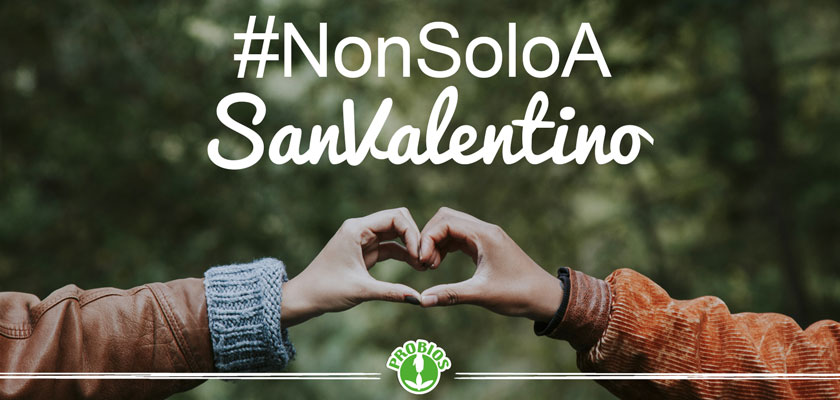 The most romantic time of the year is approaching and every lover in the world, the absolute protagonists of this day, is looking for original ideas to surprise their beloved one. Obviously, the most common choice is to book a table at a fancy restaurant, and have a special dinner with a St Valentine's day exclusive menu.
But, as data show, besides food, 25% of the Italians seem to also appreciate a romantic escape for a couple days to a beautiful location, while 11% prefers to spend the night at the cinema, and 2% opts for a take away dinner, to eat on the couch watching tv.
Among all of those romantic ideas, we also have to take into consideration a homemade dinner, with a menu that has been completely designed and prepared for our partner. Of course, this option is extremely appreciated, but requires a lot more time in comparison to the time we have during the week, like today.
For this reason, us from
Probios
, that are in love with your wellness and with good food, came up with some ideas to prepare appetizers and snacks to have while sipping some wine, honoring your love and a lot more…so, why don't you start honoring your love from the early morning? For example, you can start with breakfast, with a mug of
Coffee and Ginseng
with Cocoa Beans, with the possibility to bring this sweetness with you all day long with some
Almonds
and a
Pulp with fresh fruit and Maca
powder as a snack for work.
When he/she comes back, you can surprise your partner with a refreshing drink, such as a
Ginger based Juice
that, besides its beneficial properties, is also aphrodisiac, and perfect to be used to decorate every meal in your menu.
Also, a drizzle of
Pepper oil
on your meals to guarantee an extra touch of…spiciness!
After these yummy ideas made with aphrodisiac ingredients, we would like to remind you that it is possible to surprise the people you love,
#notonlyforvalentinesday
, because
#loveforeveryone
lives and grows every day, not only during the special occasions.
Here are some recipes made with "aphrodisiac" ingredients, #notonlyforvalentinesday:
GINGER
Lentil and Mushroom Burgers with Turmeric and Ginger Mayo
Whole Oat Cake with Ginger Flavored Pears
ALMONDS
Lasagnette Coloured with Radicchio, Ricotta Cheese and Almonds 
Biscuits with Almonds and Chickpeas
CHOCOLATE
Chocolate, Walnuts and Clementine Pie
Cream of Coffee and White Chocolate with Cookies
SAFFRON
Pear Gelatine with Chocolate Ice Cream, Pistachios and Saffron Flavored Cream
Spelt Fusilli with Peas and Saffron Sauce
PEPPER
Pineapple and Chilli Bread
Spicy Chocolate Tart
SOURCE:
Showroomprive (VeInteractive, 2016)
greenme.it