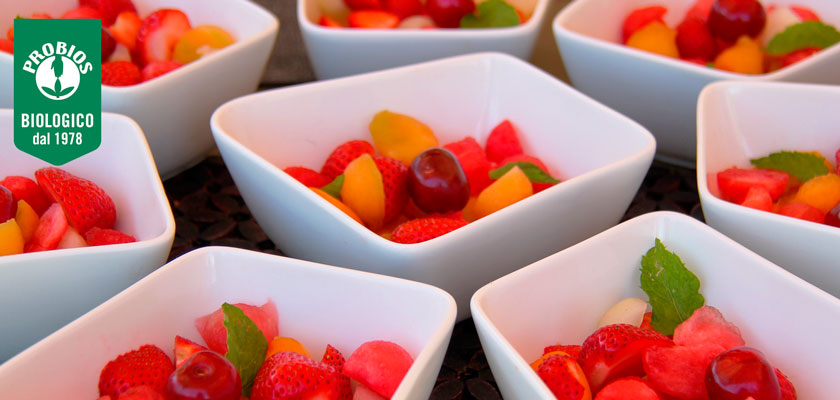 Perfect snack, fresh break, alternative breakfast: the fruit salad in its simplicity is so versatile that in summer we can't do without it. We choose our favourite seasonal fruits, the trick is to combine flavors and colors well for new and original versions and mixes.
We recommend using untreated organic fruit, especially when eating the peel, and it's always advisable to wash it in running water and with small doses of bicarbonate (very ripe fruit or with a dented or stained peel, it may contain unwanted substances such as mold) .
But let's come to the point: in addition to the classic fruit salad with pieces of fruit, sugar and lemon juice, we have come up with some variations to recommend, with combinations that stimulate the palate and creativity!
Watermelon is the prince of summer. Use it as a base and complete with red and forest fruits: its sweetness will dampen any acidity of the other ingredients. An extra idea, tasty on the palate and on the eyes, is to choose fruits of the same color for monochromatic fruit salads that are really impressive. For example, choose blackberries, currants, figs, strawberries and cherries for a purple/violet snack!
Intense freshness assured by combining melon, watermelon and pineapple. Cut them all into cubes, then season with lemon and replace the sugar with maple syrup, complete with a few leaves of chopped mint and a whole pair to garnish.
Also adding dried fruit is an excellent idea to make the fruit salad even more tasty and "crunchy": on our online shop you can find a wide assortment of dried fruit.
Do you want to dare even more? Try the fruit salad with coconut milk and chia seeds, a source of fiber and vegetable protein! Coconut milk is an excellent vegetable alternative to cow's milk and is used for numerous recipes with an exotic flavor such as refreshing drinks, desserts and puddings. Probios coconut milk is a natural source of potassium, with no added sugar. Tip: if you don't like dried chia seeds, you can soak them in milk or lime juice a few hours before preparing the fruit salad. Try also the variant with fresh fruit, sesame seeds, sunflower seeds, a veg croissant and a pure organic apple juice.
And if the fruit salad looked like ice cream? Preparing the popsicles is easy and can bring even the most reluctant children closer to fruit! Cut your favorite fruit as usual, fill the ice cream molds and complete with coconut water. Make it freeze for at least one night and you're done!
With imagination and with the addition of the right products, simplicity is always the winning recipe!