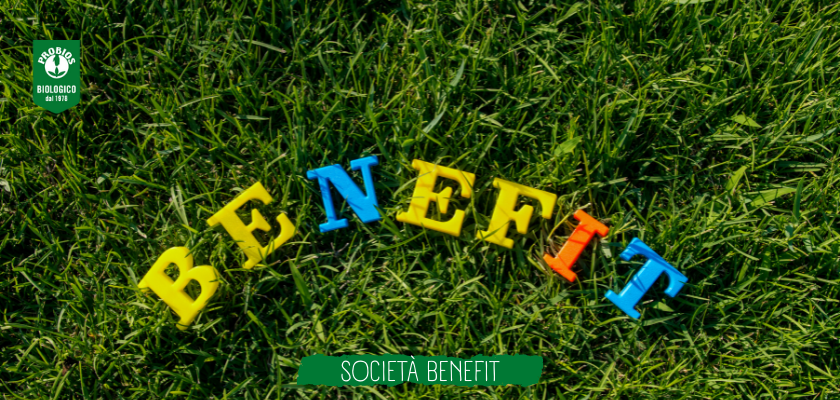 Our 2022 begins with great news: we have officially become a Benefit Company!
What does it mean? Many important things that can be summarized in the intention of putting men and environment well-being at the center of our work.
From a formal point of view, becoming a benefit company requires the approval of a new company statute and the modification of our legal form, in addition to a series of other bureaucratic actions. But these are purely "cosmetic" changes.
"The Benefit Companies (BC) represent an evolution of the very concept of a company: they integrate in their corporate purpose, in addition to profit goals, the aim of having a positive impact on society and the biosphere". [Source: societabenefit.net]
It's possible to combine business objectives with those of sustainability and creation of shared value: our history as a pioneer in the world of organic food has always embraced environmental, social and governance issues.
Promoting people's health and well-being has always been our purpose of common benefit, now formalized in the new statute just adopted, but that has always been inherent in our path in the distribution of certified quality healthy and free from organic foods.
We have been operating since 1978 trying to have a positive impact on who and what surrounds us: we do it thanks to our proposal of organic, functional and free from foods, created to ensure taste, quality and safety, safeguarding the environment and protecting biodiversity, minimizing the waste of resources and protecting man and every form of life. We do this by preferring raw materials from sustainable supply chains, all from organic farming that does not pollute land, air and water and mainly Italian.
All this adds our commitment to the main challenge of our time: the use of green packaging. Long ago we have undertaken the process of reducing the quantity of our products packaging and researching alternative packaging solutions to plastic. The reduction of plastic released into the environment is crucial for all economic activities and central to our work.
As a benefit company, we will therefore continue with even more enthusiasm and dedication to operate in a responsible, sustainable and transparent way towards people, communities, territories and the environment.
We become a benefit company, but we've actually always been!