---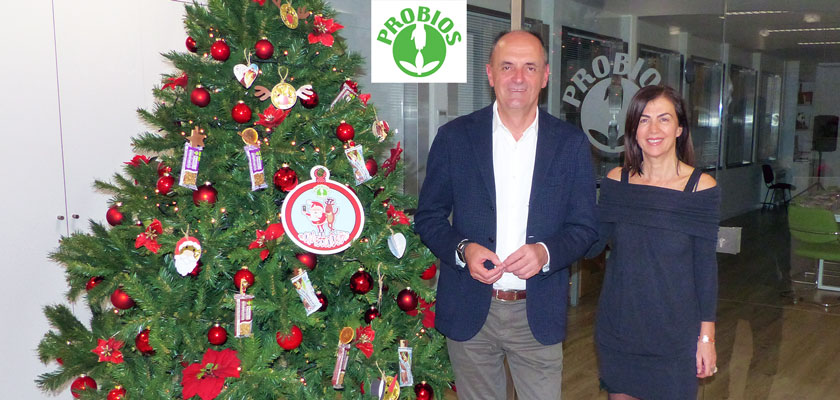 Here we are, Christmas has arrived and the New Year's Eve is approaching! The countdown is over and we are all ready to enjoy these holidays with our beloved ones. But for many of us, this is also a period to think and to evaluate the year that has passed, and also to put down our new year's resolutions.
During these days, our web campaign
#christmasforeveryone
also finished, after showing us how to decorate the Christmas tree with no expenses and
with an eye to
the environment
, recycling the packs of our products. A small initiative that we wanted to launch, to help everyone to remember how important it is to give our own contribution to make this world a better place.
Our philosophy is in fact based on the evaluation of the harvest of raw material in respect of the people and the environment, to offer
organic products
, products that the environment can only benefit from, that are suitable for everyone, also for those who have to follow specific diets or have food intolerances.
Probios comes in fact from the greek words "
pro
" and "
bios
", "
in favor of life
": a term that perfectly explains the belief and the base of our philosophy. To us, selling organic products is not just a matter of business, but a way to support those behaviors that can contribute to make our world a better place.
For this reason, we only choose suppliers that demand for an
accurate selection of harvesting methods for their raw materials
, that do not surrender to using herbicides, antiparasitics and chemical fertilizers that pollute our land, our water and our air. A theme that Probios really cares about, so that we decided to put this topic under the spotlights, both on our blog and on our social media.
At the same time, we also take position against
GMOs and other chemicals
, and our company regularly undergoes controls and inspections by the certified authorities, that verify the company respects the severe European and national requirements for organic food.
Moreover, since 2005, another company became part of the Group:
Il Nutrimento
. This tuscan company produces in facts products of the tradition, using raw materials that are mainly harvested in Italy, to guarantee a short supply chain, the promotion of organic italian agriculture and a reduced environmental impact.
This year, we have told you about the Probios' world, its products, the initiatives we participated to and much more…
see you in January
, to start a new year and to celebrate with you our 40
th 
Anniversary!
Merry Christmas and Happy New Year!