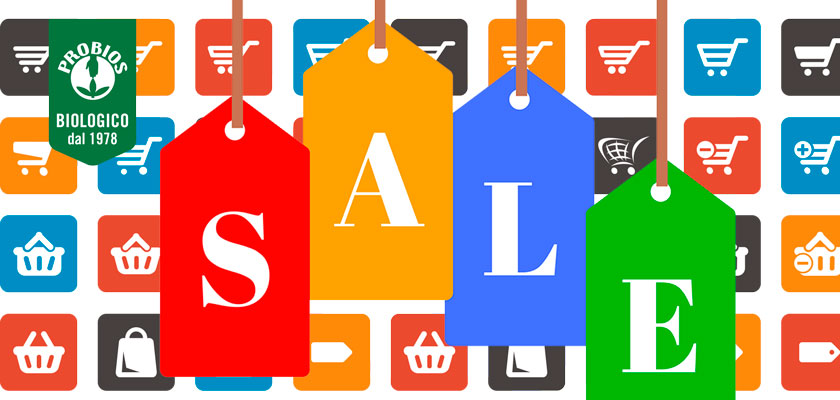 The appointment with the most convenient period for shopping, taking advantage of discounts and offers, is renewed also this year. In addition to the promotions that you can find on our online shop all year round, for this season we have think up a selection of products designed for snacks and lunches under the beach umbrella, to be discounted by 30%, with the intention of promoting above all good food habits.
Not just beach types then, but organic beach types! Let's face it: heat is not famous for being an appetite ally, but when we are under the umbrella, the desire for a snack sometimes comes out! In these cases it is not easy to choose what to eat: the foods must in fact be comfortable to carry, simple to consume, easy to digest and possibly refreshing. If we think of the classic "beach food" to take with us, what comes to mind is the usual sandwich to which we can add a little fruit at most. If you want to try something different, here are the promotions designed for you: light, good and unusual for a quick lunch on the beach.
For those under the umbrella who want something light that recalls the Eastern scents, couscous is an excellent solution. A greedy and tasty dish, but also very suitable for high temperatures. Cous Cous Time is available in two flavors, Turmeric & Vegetables and Tomato & Marjoram, both low in fat, long-lasting and produced in Italy. With the practical "cups" they are ready in 5 minutes! Equipped with the practical fork they are perfect for consumption out of home: by following the simple instructions on the label, you can cook them in 3 different ways inside the cup.
For fulltime beach lovers, you can't miss snacks and chips loved by adults and kids, ideal for breaking hunger and for aperitifs with friends. If you don't want to give it up, choose the healthier version: organic, not fried and with only natural ingredients to be enjoyed in crunchy moments of pause. From the Happy Pop line, Corn Delta and Rice Delta (produced with rice grown in Italy) are packaged in the practical multipack bag containing 6 single doses, avoiding waste. Not fried and without yeast, they are guaranteed gluten-free and loanable by the National Health System.
Excellent as a substitute for bread or as a tasty snack, in the beach kit we also offer whole spelt "Schiacciatine": crunchy and tasty, individually packaged to always carry their fragrance with you. They are available in spelt or kamut versions. To be enjoyed alone or for lunch in combination with a beautiful tomato or avocado salad.
Last but not least, fruit! In addition to the fresh and seasonal fruit, take advantage of our promotion and try pineapple, apple, mango, banana and hemp Doypack that contains only very good fresh fruit, ready to be enjoyed in the practical resealable packaging! Always carry with you the taste of freshly picked fruit for a quick snack even before sport. You can keep it out of the fridge thanks to the practical long-life packaging. Many mixes and tastes, each with different organoleptic and nutritional characteristics, only with fruit sugars or sweetened with alternatives to sucrose.
Stay up to date on our news and promotions by signing up for our Newsletter, for many ideas and offers that you can't miss!
Experience the organic summer!