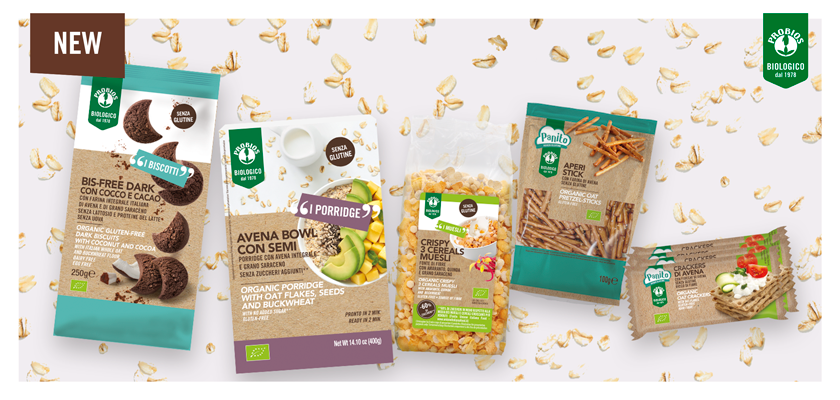 We know that September is a month of great restarts, projects, good intentions and new programs to start again with enthusiasm.
We at Probios have never stopped and here the new products that you will find on the shelves in September were born from ideas and analysis of the major market trends.
Let's find out together.
The breakfast products family is expanding with brand new and innovative references. Let's start with the beloved Bis-Free with a completely new and exotic taste, Bis-free coconut and cocoa.
With Italian wholemeal oat and buckwheat flour, these delicious cookies are gluten-, lactose-, egg-free and vegan.
Two other great novelties will arrive on your breakfast table with the Oat Bowl with raisins and berries and Avena Bowl with seeds, two gluten-free porridges, with no added sugars or with only fruit sugars, and with whole oats, perfect for giving a new flavor to your breakfast or snack. You can quickly prepare them in 2 minutes with your favorite vegetable drink.
The September breakfast news end up with the 3 cereals Crispy Muesli with amaranth, quinoa and buckwheat.
Gluten-free, they are a source of fiber and with 60% less sugar than the average of the best-selling muesli and crunchy cereals (Source of the Italian Food Union).
Another sector that is further enriched is that of salty snacks. In September, two crunchy oat crackers and oat crackers with sesame and chia seeds will arrive, both gluten-free, rich in fiber with crunchy oat flakes.
Still to be added to your organic aperitif are the brand new Aperi Sticks with oat flour and gluten-free.
Search for all the news on the shelves of your favorite store