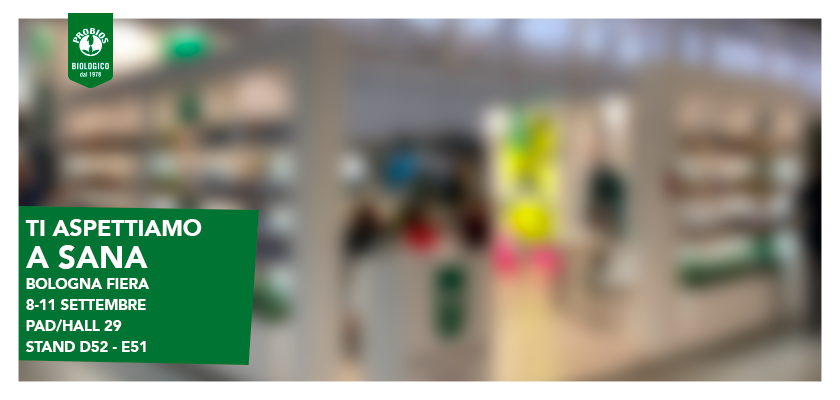 September 8th to 11th, 2022 we certainly could not miss it. You will find us at Bologna Fiere, specifically at Sana 2022, the organic and natural exhibition, with many new features. An opportunity to meet again and talk about organic and the many projects that await us for the new year. A fundamental and exciting event that this edition brings with it ambitious projects, our commitment and our usual innovative spirit. Three days tailored to welcome and meet operators, buyers or even consumers who are passionate about food, to discover new emerging claims and growing market trends.
You will find us at Pav. 29 - Booth D52-E51, in our 64sqm exhibition space with our most recent offers and the latest innovations launched on the market. Among the main novelties, we have selected some that will participate in the
Sana News competition that will return to animate the Bolognese event: Bis-Free biscuits with a new exotic coconut and cocoa taste, vegan and guaranteed gluten free, meet everyone's needs; even from the breakfast world arrive the two new oat bowls with fruit and seeds flavor, delicious gluten-free porridge. Among the novelties there are brand new gluten-free savory snacks based on oats too.
This year our stand will also come alive thanks to the participation of three partner companies. With us there will be Natruly, the Spanish brand with the mission of changing the world through what you eat; Pukka, come and taste the mythical blends of organic herbs inspired by the principles of Ayurvedic and finally Armores Natura, a brand that offers a selection of natural supplements dedicated to well-being.
Do you need some other good reason to come and visit our stand?
We are waiting for you at Bologna Fiere, Hall 29 - Booth D52-E51