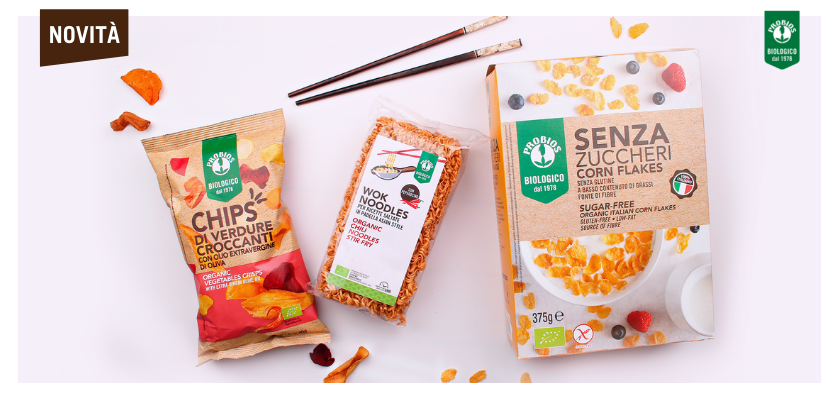 April is a notoriously crazy and unpredictable month, even in folk sayings, but at Probios we don't let ourselves be intimidated and also this month we offer you many original news.
Let's start with the snack category, with two new flavours of our beloved chips: Organic Potato Chips with extra virgin olive oil, and Organic Vegetables Crisps.
Chips with extra virgin olive oil are organic potato chips fried in extra virgin olive oil and contain 30% less salt than the average of the most popular chips on the Italian market. Crispy Vegetable Chips are sheets of organic vegetables (sweet potatoes, parsnips, beets, carrots) fried in extra virgin olive oil. Savour the taste of vegetables in the form of a snack to munch on! All three flavours are guaranteed gluten-free and available in 40g format.
Let's move on to breakfast news: the Sugar Free Organic Italian Corn Flakes! These are crunchy toasted Italian organic corn flakes with no added sugar, ideal for starting the day on the right foot. Pair them with your favourite vegetable drink or add them to yogurt for a tasty and nutritious breakfast. They don't contain sugars and are low in fat, they are a source of fibre, guaranteed gluten-free and loanable by the National Health System. Available in 375g format.
Are you an oriental food lover? We very much, as our Asian Food line demonstrates, that this month enriches with three new flavours of… noodles!
After the Ramen noodles and the classic Wok noodles, in fact come the Wholegrain Noodles Stir Fry, Noodles Vegetables Stir Fry, Noodles Chili Stir Fry.
Their distinctive taste makes them perfect for Asian style sauteed recipes. They are prepared in a few simple steps illustrated on the package: add them to the pan with your favourite ingredients, in the blink of an eye you will bring Asia to the table! Available in 250g format.
We end up on a sweet note, with three new gluten-free Noglut products.
The Sponge Cake, the Cocoa Tartlets and the Noglut Coconut Drops are sweet baked products guaranteed gluten-free, made with artisan organic ingredients. All to be enjoyed in total safety, without sacrificing goodness and quality. They are loanable by the NHS and even without milk in the recipe!
Welcome to the new products on the shelf!