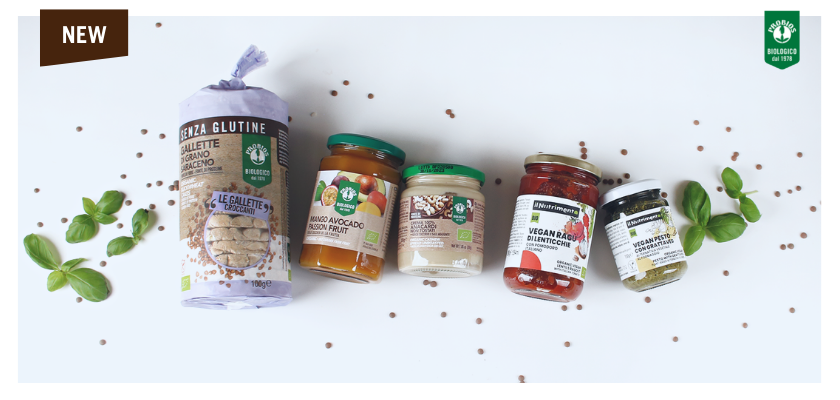 The first warm, the longer and longer days and the desire for tasty and refreshing food. Here is June, the month of the summer solstice that brings with it a load of new Probios products.
Let's start with the very crunchy Organic buckwheat cakes guaranteed gluten-free, loanable by the National Health System and bearing the barred ear on the label. Crunchy and with a characteristic and intense taste, they are perfect to accompany a meal in place of bread or as a snack to break hunger at any time of the day.
Do you want a breakfast with a special taste? You can't miss the pomegranate and mango avocado and passion fruit flavored compotes. The first contains all the fresh flavor of the ancient fruit, perfect both to spread and to give a twist to your desserts. The mango avocado and passion fruit compote will win you over instead for its exotic taste and naturally sweetened by fruit sugars.
The family of our dried fruit spreads entiches with a new entry that everyone was waiting for: the 100% organic cashew spread unroasted cream with no added sugar and salt-free. Guaranteed gluten-free, it will amaze you with its delicate taste thanks to the grinding of organic non-roasted cashews that allow the organoleptic properties of this Brazilian fruit to be kept intact. It's excellent to spread on bread or for the preparation of your favorite recipes.
Same quality but new image for the new sauces and pesto by Il Nutrimento that gets a new look with a more modern and easily recognizable visual on the shelves. Let's start with the very fragrant vegetable Pesto with Grattaveg, the innovative organic sauce for pasta based on basil and pine nuts. Its plus is represented by Grattaveg, a completely vegetable alternative to grated cheese made with lentils. Gluten-free, the Vegetable Pesto with Grattaveg is a unique product on the market that was born as a valid response to traditional pesto. Let's move on to the new formulation with a rounder taste and creamy consistency of our historic gluten-free and Vegan Pesto. Try it without garlic too if you prefer a milder taste. And conclude the roundup of the novelties with the Vegan lentil ragout with italian tomato, a valid alternative to the unique vegan ragù with soy on the market.
Welcome to the new products on the shelf this month!