---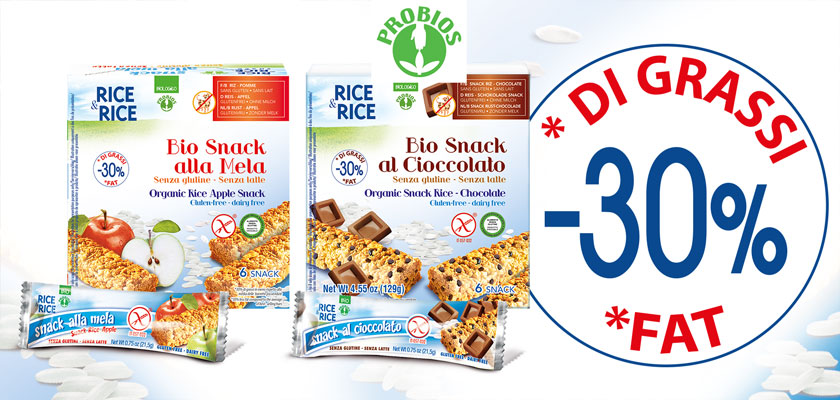 Rice is really healthy for our organism and well known for its properties, such as the high digestibility and its capacity to regulate our intestinal flora. Moreover, speaking about gluten free cereals, this one is definitely the first that comes to mind, and in fact it is the most consumed gluten free cereal in the world.
Probios, which has been selling
gluten free products
for more than 20 years, offers many rice based product, such as the
Rice&Rice snacks with either chocolate or apple
, perfect for a break during the day. According to Probios' philosophy, these snacks are made with
Italian corn and rice
, they are
lactose and palm oil free
, but first of all…
the new recipe contains 30% less fats
. In fact,
they only contain 83 kcal
, to allow yourself to have a light, tasty and healthy break!
A delicious new entry for Probios, that is always synonym of reliability, also thanks to the fact that the
Brand Rice&Rice
exists since 2000.
Rice&Rice's snacks with apple and chocolate are perfect to combine your chocolate or fruit cravings with health, light, natural and fragrant puffed rice, to offer you
the right amount of energy
every day and every time. Thanks to
their reduced weight and their balanced nutritional properties
, the new Rice&Rice's snacks are perfect to satisfy your taste buds or for a quick snack: at the office, at school, to the gym, on a trip…
In fact,  it is extremely important to always allow you to have a break during the day, even when you do not have much time available, to provide the right amount of energy to your organism and be capable to face all the things you have to do with the right energy, strength and efficiency (both mental and physical).
A break, and all the breaks you need to have during the day, is in fact a crucial part of the daily routine every nutritionist and pediatrician advices with the "
five meals rule
", that includes breakfast, lunch, dinner and two snacks, one in the morning and one in the evening.