---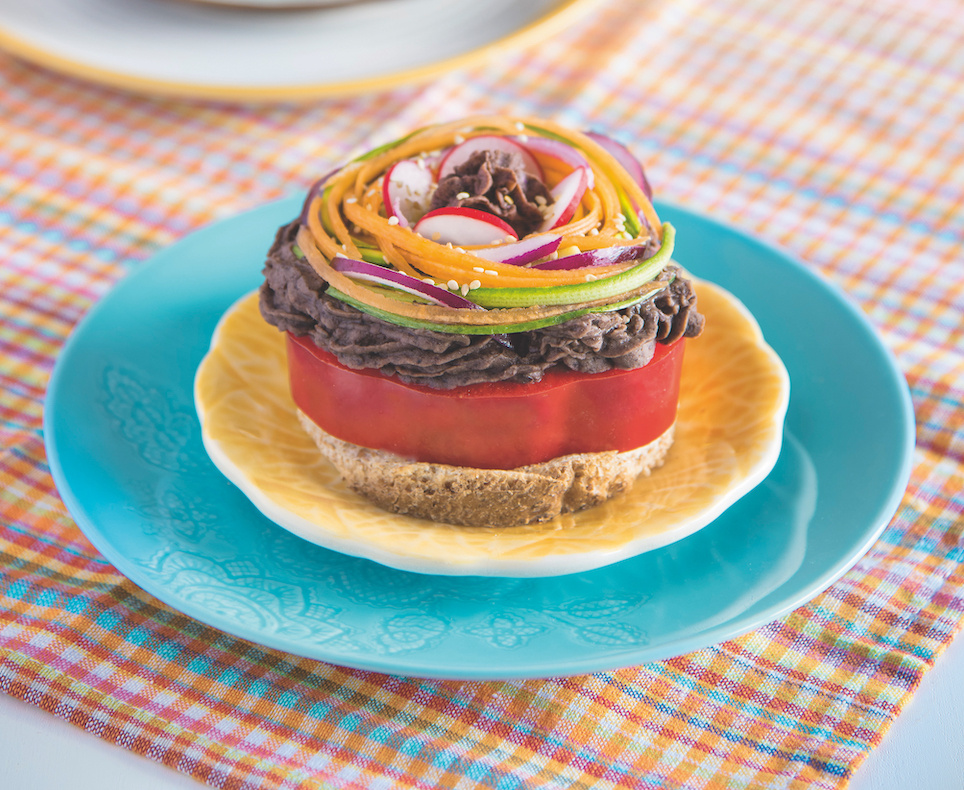 Type of recipe:
appetizers
INGREDIENTS
4 slices of whole bread

300 g boiled black beans

1 red pepper

1 Zucchini

1 carrot

3 radishes

1 red onion

2 lemons

1 tablespoons of sesame seeds

1 pinch of chopped thyme

1 pinch of chopped rosemary

pepper

hot chili powder
INSTRUCTIONS
Grated rind of the lemons and squeeze the juice. Then blend the beans with the zest, half of the lemon juice, 2 tablespoons of oil, thyme and rosemary, a pinch of salt, pepper, chilli pepper and enough water to make a frothy cream. Place it in a pastry bag.
Obtain 4 thick round slices from the pepper, eliminating filaments and seeds. Using a pastry ring or a glass, of the width of the bell pepper slices, cut rounds slices of bread and lightly toast them.
Cut the zucchini, carrot and onion into thin strips, then marinate them for 10 minutes in the remaining lemon juice with a pinch of salt.
Build the millefeuille on the plates. Spread the bread rounds, place the bell peppers on top and fill them with a nice layer of bean cream. Add the drained strips of vegetables placed like a nest and complete with thinly sliced radishes and sesame.