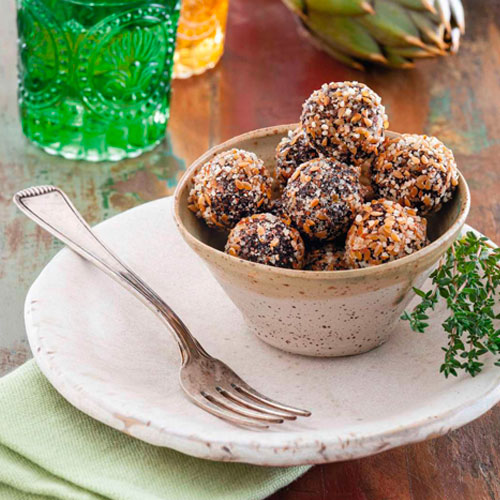 Diet:
Milkless, Vegan, Gluten Free
Type of recipe:
appetizers
INGREDIENTS
4 artichokes

85 g shelled sunflower seeds

40 g golden flax seeds

35 g almonds

25 g Pecan nuts

2 black garlic cloves

half a lemon

2 teaspoons of parsley

1 teaspoon of thyme

flake rice nutritional yeast

chilli powder
INSTRUCTIONS
Obtain the soft internal part from the artichokes, eliminating the hard leaves, the tips and the internal beards. Cut them transversely into slices and soak them gradually in a bowl with water and lemon juice. Then pat them and season with 3 tablespoons of oil, a little teaspoon of salt, chopped garlic (if you use white, remove the soul) and let them marinate for at least 20 minutes.

Prepare a breadcrumbs by mincing the almonds with the flax seeds and a pinch of salt. Work with the pulse button and for short periods, thus avoiding reducing them into a paste instead of a flour. Put it aside.

Reduce the sunflower seeds in the mixer and keep these aside too.

Blend the artichokes in the mixer with all the marinade (including garlic), pecans, half a teaspoon of yeast and a pinch of chilli pepper. Add the thyme, parsley and turn the mixer on again. Finally, add the sunflower seed flour and continue until you obtain a homogeneous mixture.

Make about twenty round meatballs from the dough, weighing about 15 g each. Roll them gradually in the almond breading.

Arrange the meatballs on the tray of the dryer lined with parchment paper and dry them at 42°C for 3 hours and a half or until they are crisp and dry on the surface but soft inside. If you don't have a dryer, use the fan oven, at minimum temperature and with the door slightly open, always for 3 hours and a half. Calculate that the drying times can change depending on the temperature and humidity of the environment.

Serve the meatballs still warm, perhaps accompanying them with a fresh salad.
© Cucina Naturale