---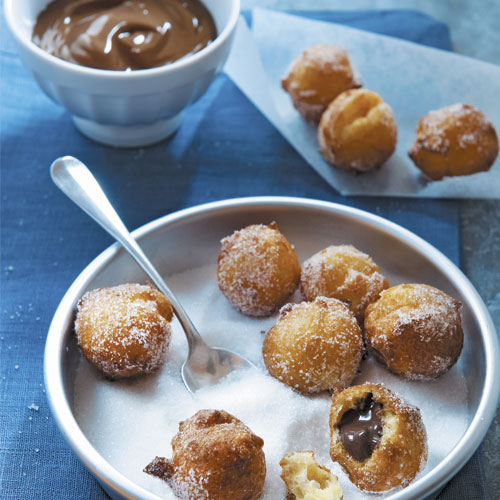 Type of recipe:
cakes and dessertss, desserts
INSTRUCTIONS
Prepare the dough: bring the milk to a boil with water, sugar, lemon zest and butter. When it boils, pour the flour in one shot and stir it well with a wooden spoon: the dough will form a ball that will come off the sides of the pot. Cook for a couple of minutes and turn off to let it cool.

Incorporate the eggs one at a time then with two teaspoons taken out the portions of the dough: dip them a few at a time in seed oil at 180°C deep, turn from all sides until golden brown.

Drain, dab, dip in granulated sugar and with a syringe stuff them with chocolate cream.

For the chocolate cream, use the same procedure as a vanilla cream, i.e. mix 3 yolks with 50 grams of sugar and 30 of flour, pour 300 milliliters of milk and cook the cream over low heat. At the end of cooking, pour 80 grams of chopped dark chocolate with a knife: leave it to dissolve for 2 minutes, then mix with a whisk to mix.