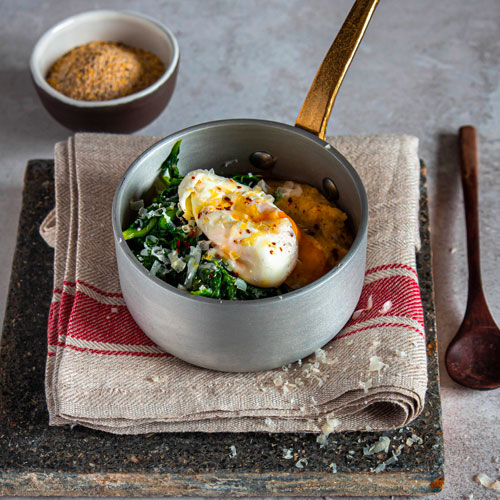 Type of recipe:
unique dishes
INGREDIENTS
4 eggssw

4 Spinach cubes

4 tablespoons of grated Parmesan cheese

smoked paprika

pepper
INSTRUCTIONS
Heat one liter of salted water for the polenta in a saucepan. At the same time, put a second pot on the fire for the eggs.

Place the spinach cubes covered with a drizzle of water and a pinch of salt in a saucepan and cook them quickly. When ready, drain them if necessary and then season with one-two tablespoons of oil and pepper.

Pour the polenta into like a rainfall a moment before the water comes to a boil, working with a whisk. Lower the heat slightly and cook, stirring often. Usually it takes about 8 minutes. Add more water if it becomes too solid.

Cook the poached eggs one at a time. If you are not very practical, alternatively simmer the eggs for 4 minutes, then cool them immediately under running water and gently shell them. The yolk must remain very soft.

Divide the polenta into 4 plates or single-portion pans, place the spinach on top, then the eggs and finish with the Parmesan and a sprinkling of paprika. Season with a drizzle of oil to taste.
© Cucina Naturale