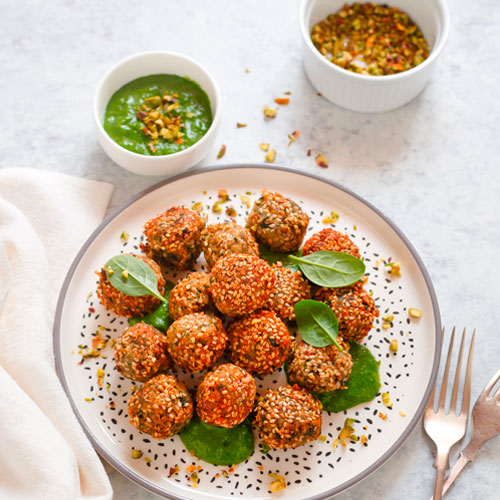 Type of recipe:
appetizers
INGREDIENTS
450 medium potatoes

350 g salad spinach

1 teaspoon of ground nutmeg

50 g pistachio flour

50g sesame seeds, plus others for breading

1 tablespoon of tahin

2 garlic cloves

1 lime

1 Tropea red onion

breadcrumbs

black pepper
INSTRUCTIONS
Put the whole potatoes with the peel in a large saucepan, cover them with cold water and cook until they break, inserting a fork or a knife tip, then turn off the heat, peel them and pass them to the potato masher.

Chop the spring onion and brown it together with the crushed garlic cloves in a pan with 3 tablespoons of oil for a few minutes, add the potatoes and 300 g of spinach. Stir often and leave to flavor until the spinach has softened. Add salt, pepper and nutmeg, then remove from the heat and let cool.

Transfer the cooled mixture into a bowl, add the pistachio flour, sesame seeds and, only if necessary, 1-2 tablespoons of breadcrumbs to adjust the consistency.

Model portions of about 15 g of mixture into meatballs, pass them in sesame seeds and fry them in abundant hot oil for a few moments, drain them on kitchen paper.

Prepare a sauce by mixing the remaining spinach with a drizzle of oil, a pinch of salt, tahin and lime juice.

Serve the meatballs with the sauce.
© La Mia Cucina Vegetariana