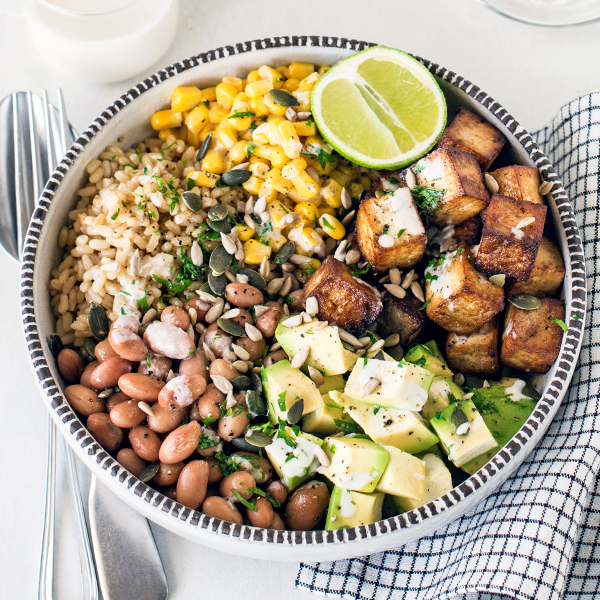 Type of recipe:
unique dishes
INSTRUCTIONS
Peel and slice the ginger and garlic, then slice the chilli. Put them in a container with tofu, 2 tablespoons of soy sauce, a tablespoon of olive oil and leave to marinate for a minimum of 3 hours.

Place the cobs in a pan with slightly salted cold water and then boil them for about 25 minutes, until they are well cooked (depends on the level of ripeness). Let them cool and then shell them with the help of a knife from the bladeless side.

Cover the beans in a pan with plenty of unsalted water and add the bay leaf. Bring to a boil, lower the heat and continue for about 30 minutes. Salt, cover with a lid and continue for other 15-20 minutes or until the beans are well cooked.

Boil the rice in slightly salted water, drain it and let it cool.

Cut the tofu into cubes and brown it in a pan with a drizzle of sesame oil for about 5 minutes, then drain it on kitchen paper.

Cut the avocados into cubes and season with the juice of half a lime and a spoonful of oil.

Prepare the bowls, placing in each one a quarter of each prepared ingredient, namely corn, beans, rice, avocado and tofu, without mixing them. Sprinkle everything with a drizzle of oil, chopped parsley, a splash of lime juice and pumpkin and sunflower seeds.
© Cucina Naturale