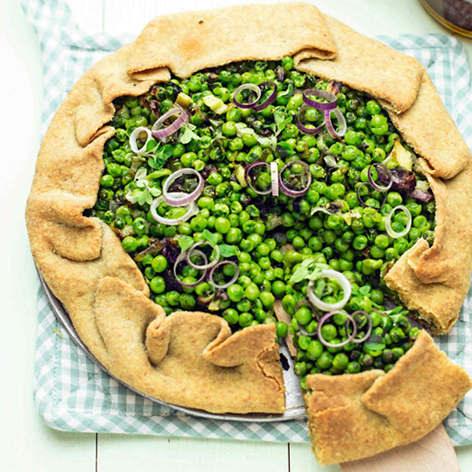 Type of recipe:
second courses
INGREDIENTS
100 g 0 type wheat flour

100 g whole wheat flour

extra virgin olive oil

Salt

ground durum wheat semolina for processing

For the filling:

500 g shelled fresh peas

3 spring onions

1 bunch of fresh oregano

extra virgin olive oil

salt

pepper
INSTRUCTIONS
Mix the white flour with the whole wheat flour, 80 ml of water, 50 ml of oil and a teaspoon tip of salt, preferably with a food processor or a planetary mixer, until obtaining a rather soft homogeneous mixture. Transfer it to a work surface and work it by hand for a few minutes, giving it the shape of a ball. So keep it in the fridge for at least an hour (you can also prepare the dough the day before and leave it in the fridge overnight, in this case bring it back to room temperature by taking it out of the fridge at least 10 minutes before working it).

Blanch the peas for 5 minutes in lightly salted water, drain and cool them quickly with cold water.

Peel the spring onions and cut them into thin slices. Keep some slices aside to decorate the plate. Then brown them in a pan with 2 tablespoons of oil and gentle heat for 5 minutes. Add the peas, salt, pepper and add the oregano. Leave on high heat for 5-6 minutes before removing from the heat. Let it cool down.

Roll out the dough to a thickness of about 5 mm on a well floured work surface (which guarantees greater ease in rolling out the dough and will make it particularly crunchy). Turn the dough sheet by working it on both sides, then form a 28 cm diameter round. Place the dough disc on a baking paper sheet and place it in a 22 cm diameter mold, letting the edges of excess dough fall outwards.

Stuff the base with peas by folding the outer edges towards the center, partially covering the filling, and pinching the dough to form a tightly closed edge. Brush the dough with a drizzle of oil and bake at 190°C for 35-40 minutes, until the tart is crispy and golden. Serve it lukewarm, decorating with the onion slices kept aside.
© Cucina Naturale