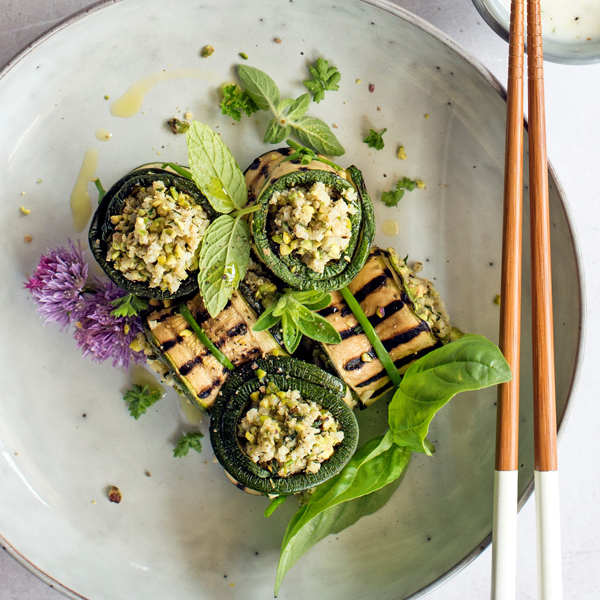 Type of recipe:
first courses
INGREDIENTS
For the rolls:

130 g Hulled millet

3 zucchini

80 g Shelled pistachios

1 bunch of mixed aromatic herbs

1 bunch of chive

Pepper

Flower for food use to decorate

For the sauce:

200 ml natural yogurt

10 mint leaves

1 lemon

Pepper
INSTRUCTIONS
Rinse the millet, put it in a pot with 3 times its weight in water and a pinch of salt, bring to a boil and then cover with a lid. Boil it on low heat for about 30 minutes, remove from the heat and let it rest in the pot for 10 minutes.

Trim the ends of the zucchini and cut them lengthwise with a mandolin into slices about 3 mm thick. Then grill them on a hot griddle on both sides.

Shell the millet and collect it in a bowl. Season it with one-two tablespoons of oil, salt, pepper, most of the herbs, peeled and finely chopped, the pistachios reduced in a thin grain. Let it cool.

Work in your hands a generous spoonful of millet to compact it slightly, forming a meatball. Place it at the base of a zucchini slice and roll it up into a wrap. Stop it with a knotted chive stem and continue until the ingredients are used up. Divide the rolls into 4 dishes and season them with a drizzle of oil. Prepare the sauce by mixing the yogurt with a spoonful of oil, a spoonful of lemon juice, minced mint, salt and pepper.

Serve the rolls with a few spoonfuls of sauce added at the last moment.
© Cucina Naturale