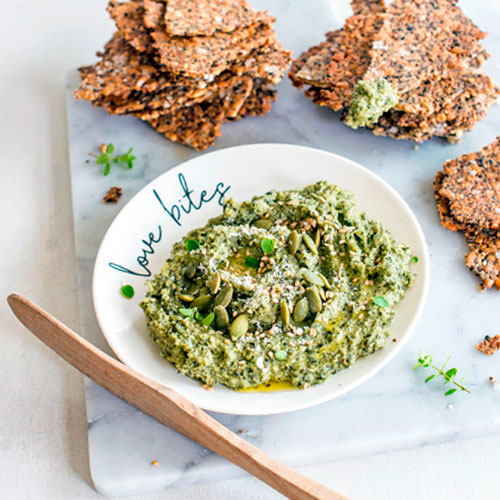 Type of recipe:
appetizers
INSTRUCTIONS
Mix the almond flour with the buckwheat flour, 125 ml of water and 80 ml of oil in a bowl. Then continue by adding sunflower seeds, flax seeds, normal sesame seeds and black sesame seeds, chia seeds, mustard seeds, oregano and a teaspoon of salt. Continue until you get a rather sticky mixture and put it to rest in the refrigerator for about 30 minutes.

Divide the rested dough into 2 parts. Then work one half with your hands to obtain a ball, place it between 2 sheets of parchment paper and flatten it with a rolling pin as thinly as possible, obtaining an irregular disc. Remove the top paper sheet and sprinkle with a little salt, then bake at 180°C in a ventilated mode for 15-18 minutes or until the sheet becomes golden brown.

Remove from the oven and repeat the operation with the other half of the dough. When the sheets are completely cold, break them with your hands.

Prepare the pesto by combining the seeds of pumpkin, 50 ml of water, 40 ml of oil, parmesan, lemon zest, basil, salt and pepper in a possibly small mixer. Blend everything by adding 40-50 ml of water flush until the consistency of a creamy pesto is obtained.

Divide the pesto into 2-3 appetizer plates, decorate with a drizzle of oil, other seeds to taste, a sprinkling of Parmesan and serve with crackers.
© Cucina Naturale