---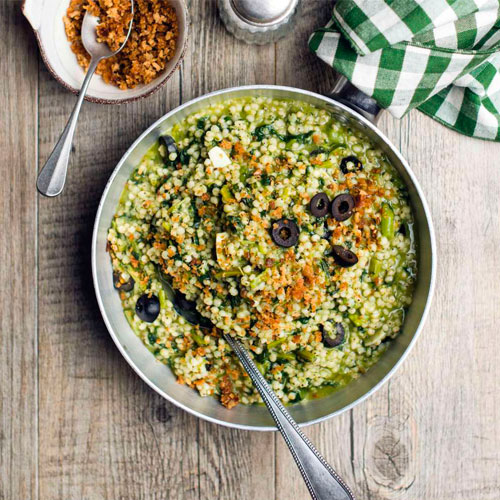 Type of recipe:
first courses
INSTRUCTIONS
Bring plenty of slightly salted water to the boil and cook the peeled turnip greens for 5-6 minutes. Drain and dip them in cold water to stop cooking.

Brown the sliced garlic and a pinch of chilli powder in a pan with 2 tablespoons of oil. Chop not too finely the turnip greens and mix them with the sauté. Let them flavor and then add the sorghum, rinsed and well drained, stirring until it starts to friction with the pan bottom.

At this point, blend with 2 ladles of the broth brought to a boil and let it absorb, stirring constantly. Slightly increase the heat and continue cooking adding more broth when absorbed. Continue for about 20 minutes, stirring when necessary.

Finely chop the bread in a small mixer to obtain many crumbs. Season them with a drizzle of oil, salt, pepper and then brown them in a pan over low heat until they become crispy.

Remove the sorghum from the heat once cooked and season it with a spoonful of oil and half of the olives reduced in slices.

Distribute the cereal on the plates, decorated with the remaining sliced olives and crispy bread to be sprinkled at the last moment. If you like, complete with another sprinkling of chilli pepper.
© Cucina Naturale