---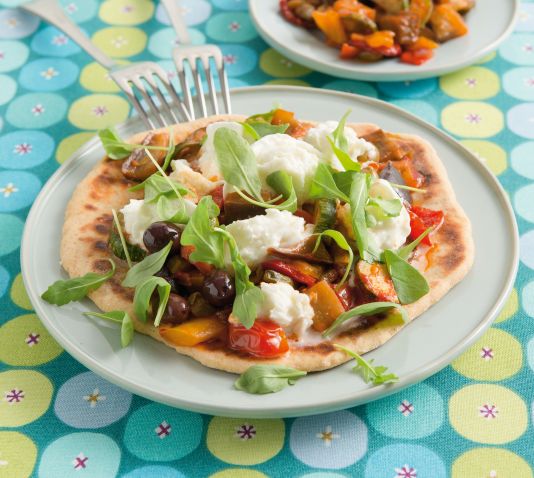 Type of recipe:
unique dishes
INGREDIENTS
For the piadinas:

150 g Semi-wholemeal flour

100 g chickpeas flour

1 teaspoons of baking powder for savory pies
For the filling:
200 g Mozzarella di bufala

2 peppers

1 aubergin

2 zucchini

2 celery ribs

8 cherry tomatoes

1 handful of rocket salad

1 onion

1 garlic clove

2 tablespoons of tomato concentrate

2 tablespoons of olives

1 tablespoon of capers

1 tablespoon of cane sugar

2 tablespoons of apple vinegar
INSTRUCTIONS
Prepare the tortilla dough. Sift the wholemeal flour with chickpea flour, a little teaspoon of salt and baking powder into a bowl, pour 100 ml of very hot water, a tablespoon of oil and knead until a homogeneous and elastic mixture is obtained. If necessary, add more flour or water. Wrap the dough in plastic wrap and let it rest in a cool place while preparing the rest of the recipe.

Cut the celery into diagonal slices a few millimeters thick. Slice the zucchini and then divide the slices in half. Reduce the peppers and the aubergine in small cubes of about 1.5 cm per side. In a large pan with 4 tablespoons of oil, preferably a wok, sauté the chopped onion and garlic over a medium heat for 5 minutes, then raise the heat and add celery, zucchini, peppers and aubergine. Salt lightly and cook for 10 minutes, stirring frequently. When the vegetables are well browned, add the cherry tomatoes into wedges, the chopped sun-dried tomatoes, the rinsed capers and a small glass of warm water in which you have dissolved the tomato concentrate, sugar, a pinch of salt and apple vinegar. Cook the caponata over medium heat for another 10 minutes, removing the vegetables from the heat well cooked but not overcooked and dry. Check the salt and let it cool.

Divide the dough into 4 equal balls. On a flat surface roll them out with a rolling pin to a thickness of about 4 millimeters obtaining a round.

Cook the piadinas on a hot plate until they have the typical color. As you cook one, keep the previous ones warm wrapped in a clean cloth.

Place a hot piadina on each plate, cover it with the warm caponata, then garnish it with the mozzarella di bufala cut into small pieces with your hands and the rocket. Complete with a drizzle of oil and serve immediately. If you prefer, you can close them in half-moon shape or cut them into wedges.