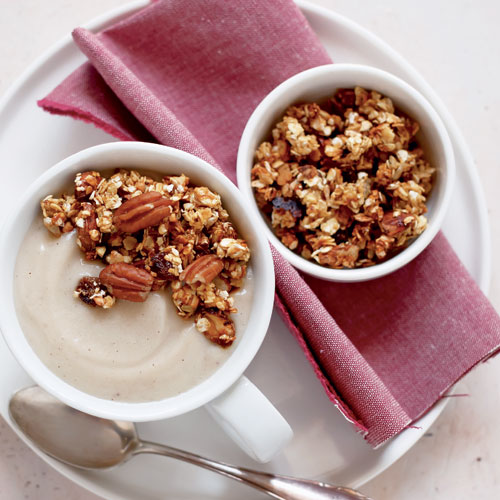 INSTRUCTIONS
Cut the vanilla bean lengthwise and grate the seeds with a knife tip. Mix the vanilla seeds with the sugar and starch in a saucepan, pour the almond milk and the cashew cream.

Put on the fire and bring to the boil over high heat, then lower the heat and cook the preparation stirring with a wooden spoon until it has thickened. Remove from the heat and divide the mousse into 4 cups or glasses.

Heat the oven to 150°C. Pour the malt on the mix of seeds, dried fruit and flakes, mix carefully until it has absorbed all the malt.

Place the mixture in a single layer on a baking tray lined with a parchment paper sheet and bake until the granola is crisp and golden.

Serve the mousse with a spoonful of granola and a handful of pecan nuts.
© La Mia Cucina Vegetariana