---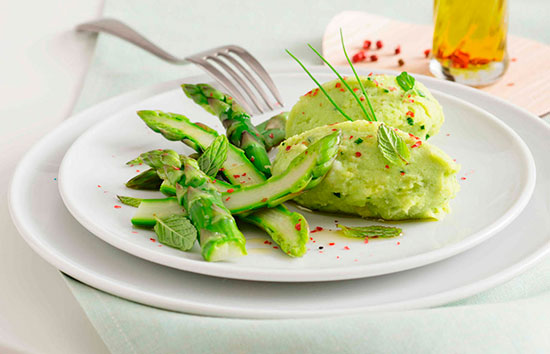 INGREDIENTS
400 g asparagus
3 potatoes
1 bunch of mint
1 bunch of chive
1 teaspoon of pink pepper
INSTRUCTIONS
Peel the potatoes, cut them into wedges and arrange them in a single layer in a basket. Then steam them for 15-20 minutes, until they are tender but not meltdown.
Peel the asparagus by removing the fibrous part and separate by the stems the first 4 cm of the tips
Remove the potatoes from the basket (keep them warm), then put a few sprigs of mint in the water to boil and cook the asparagus in the same basket. Calculate 4 minutes for the tips, then drain them in iced water, and 10 minutes abundant for the stems, which must be tenderized well.
Finely chop with the scissors a lot of chives and mix the mince with 2 generous tablespoons of oil. Let it flavor.
Blend the asparagus stalks with chive oil only for the time necessary to reduce them to cream.
Pass the potatoes to a potato masher collecting the mashed potatoes in a bowl, add the cream of asparagus and mix carefully until you obtain a smooth and soft compound similar to a mousse. Finally add salt slightly.
Whip the pink pepper coarsely and mix it with 2 tablespoons of oil.
Place the mousse in the dishes forming some quenelle or helping you with a pastry bag; sorround with the asparagus tips divided in half lengthwise and finish pouring the oil with the pink pepper on the mousse and decorating with mint leaves and chive stalks.