---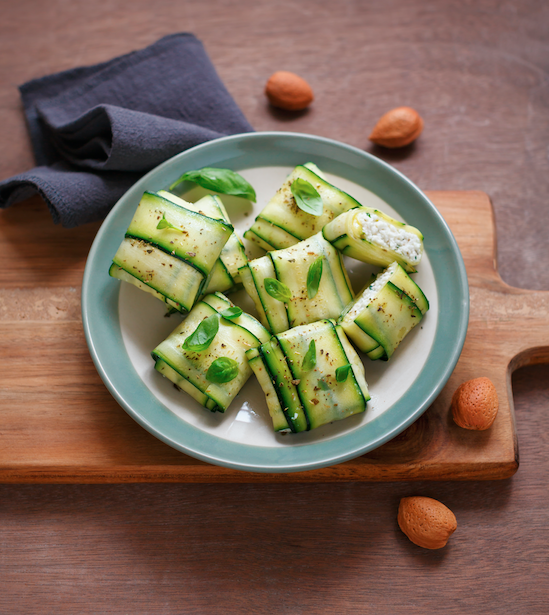 Diet:
Gluten free, Milkless, Vegan
Type of recipe:
appetizers
INGREDIENTS
4 zucchini

150 g peeled almonds

50 g cashew nuts

1 untreated lemon

2 tablespoons of chopped aromatic herbs (chives, thyme, basil, marjoram)

1 thin slice of white spring onion

1 garlic clove

1 tablespoon of grated ginger root

1 teaspoon of dried oregano

Black pepper
INSTRUCTIONS
Soak almonds and cashews in plenty of water for 4-5 hours. In the meantime, cut both zucchini ends and slice them in the longitudinal part, in very thin strips with the help of a mandolin or a potato peeler.

Marinate the zucchini strips obtained in a bowl with 2 tablespoons of oil, the sliced garlic clove, the ginger, a little water and the grated peel of half a lemon, for about 2 hours.

Remove and rinse the almonds and cashews, then whisk them with 100 g of fresh water, 1 tablespoon of lemon juice, the spring onion, the yeast and 2 pinches of salt to obtain a consistency similar to ricotta.

Stir in the aromatic herbs and set the mixture aside.

Place 2 zucchini strips together, overlap them with other 2 strips, then cross them, placing a spoonful of almond ricotta in the middle.

Sprinkle the dumplings with the oregano and serve them on a tray with the closure facing down.