---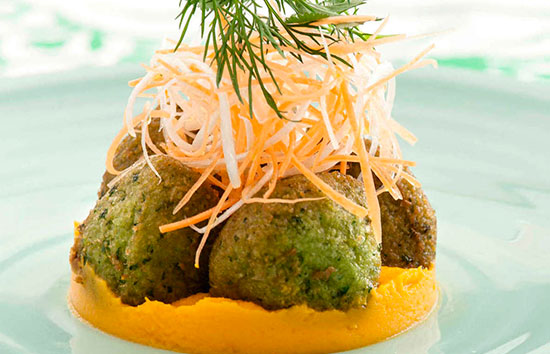 INGREDIENTS
100 g dried split peas soaked for 1 night
10 g peeled leeks
1 tablespoon of coriander
peanut oil for frying
For the cream:
200 g carrots
1 piece of lemon peel
1 bay leaf
For vegetable chiffonade:
1 carrot
1 leek
half of a lemon
mixed aromatic herbs to decorate
INSTRUCTIONS
Drain the peas and transfer to the blender with sliced leeks, coriander leaves and a pinch of salt. Blend at the maximum power until obtaining a homogeneous and almost creamy consistency. Add, if the mixture is too dry, some tablespoons of cold water. Let it flavor.
Cut the carrots provided for the cream into very fine washers. Place them in a thick-bottomed saucepan and add a little oil, lemon zest and bay leaf. Cover with the lid and cook over low heat, without adding liquids, for 10 minutes until the carrots become very soft.
Whisk the cooked carrots, after removing the bay and peel, obtaining a smooth and fragrant puree. Finally salt it lightly and season with a few drops of spicy oil.
Peel the carrot and remove the outer sheath of leek. Slice both lenghtwise with a multi-function slicer. Then, with a sharp knife, reduce the slices into very fine strips. Soak them immediately in cold water so as to make them crispy and curled in an irregular way. Place everything in the fridge.
Reduce the mixture of peas in many quenelles helping with 2 tablespoons. Meanwhile, heat the peanut oil to 180°C and fry the falafels for 4 minutes, drain them on kitchen paper and then keep warm.
Place some carrots cream on the bottom of the plates, place 4-5 falafel and arrange carefully on top the chiffonade of carrots and leeks. Finished with aromatic herbs, a few drops of oil and lemon juice.