---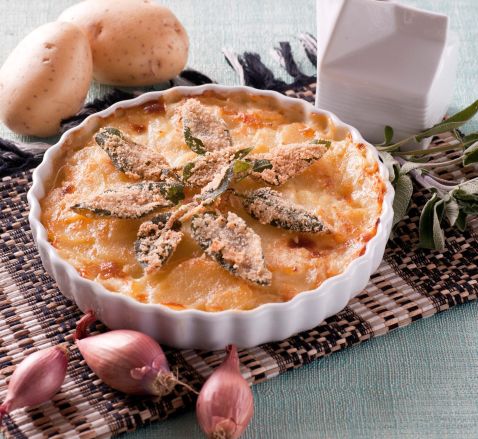 Type of recipe:
second courses
INGREDIENTS
500 g potatoes

1 shallot

150 g Gondino vegan cheese

40 g grated vegan Grana cheese

20 g vegetable margarine

3 tablespoons of extra virgin olive oil

half a glass of rice milk

6 sage leaves

wholemeal breadcrumbs

pepper
INSTRUCTIONS
Wash the sage leaves, dry them gently and separate them from each other, pass them in a little milk then in the breadcrumbs and fry on both sides for a couple of minutes; keep aside.

Peel and slice the shallot, put in a pan with 1 tablespoon of oil, salt and pepper and wither a few minutes.

Peel the potatoes, slice them very thin with the mandolin and add them to the shallot, cook 10-12 minutes, or until the potatoes have lost their cooking water. Add the remaining milk, the margarine, season with the grated Grana and the Gondino cut into small pieces, add salt and pepper and mix with a wooden spoon.

Place the potato mixture in a round, lightly greased baking dish, decorate with the sage leaves arranged radially and bake for 15 minutes at 180°C, brown 5 minutes under the grill, take out of the oven and serve.