---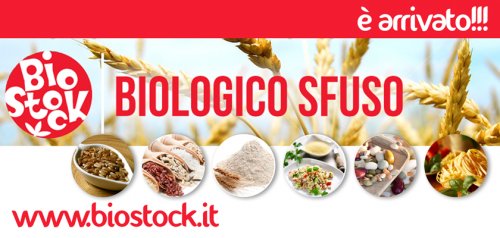 Biostock, a Probios group company, was founded in 2003 with the aim of commercializing biological raw materials mainly to the laboratories of food production and backery.
Ten years ago indeed there was no company able to offer to the world of organic production the most varied raw materials and it was precisely this factor that characterized the company. A dynamic service combined with a wide range of organic products; a single interlocutor for all producers: from large corporations to small workshops who can in this way use from small to medium supplies with competitive prices.
Thus began the journey of this company that is in a position to supply mainly bakers, pastry chefs and specialized gastronomy laboratories. Speaking with the managers of the company, has intrigued us to probe the market for unpackaged products, since over the years this has experienced a real boom. Increasingly, in fact, are the stores that offer consumer products such as pasta, legumes and cereals, sold by weight, and thats why we want to know what is the reason for this great interest from consumers.
"Both the aspect of convenience as that of ethics, to avoid a greater waste of food packaging, have impacted greatly on the proliferation of stores that sell unpackeged products, at least in Italy," told us by Biostock.
"Surely there is on the one hand the convenience to buy only the amount you need at a more affordable price than the pre-packaged product, but on the other hand there is also to say that the consumer is increasingly sensitive to 'not waste' and not producing unnecessary waste, whether packaging or organic waste. Undoubtedly, the undeniable rise of stores that sell loose products also stems from the growing number of people who have chosen to give their children a healthy diet. In fact, a good number of consumers comes from a school of thought that respects all forms of life, both plant and animal. "
Even the offer Biostock has expanded over the years, diversifying and coming today to a list which counts some 200 references.
"Over the years we have increased the range of products also according to what customers were asking us. It is essential to listen to our customers because it is from them that we can have a safe track of what the market, and therefore the ultimate consumer needs. "
Biostock is therefore a company that 'listens' to the market as well as those consumers who over the years have started to follow it.
It may be added here that more and more ethical purchase groups apply to Biostock: this means that it is easier for teh company having an opportunity to interact with their consumers.
Over the years there has also been an exponential growth of restaurants and take-aways that apply to users of vegetarian and vegan and this makes us very happy because it is tasty and a great way to spread the philosophy of green eating.
In this regard, confirmed by Biostock: "Since ever we supply restaurants and laboratories and can testify that they are expanding both in numbers as well as in turnover. This is dictated mainly by a growing demand from the final consumer, more and more sensitive to healthy food, who wants to eat well even when one is going to enjoy a simple pizza!
In fact, in addition to veg restaurants are more and more pizzerias, offering the highest quality products and various flours. Did You ever try a pizza of senatore cappelli wheat? The exceptional flavor of this wheat makes it truly unique. "
Even the choice of suppliers is within the sphere of ethical business, as we are told by Biostock: "Among the parameters adopted for the selection of suppliers, surely even the ethics plays a fundamental aspect:
For example, we work with several co-operatives, with producers of raw materials that identify and safeguard biodiversity. We firmly believe that it is important to offer a high quality product with a degree of a more than satisfying ethicality of our partner companies. "
Biostock is a beautiful reality, that works in the field of unpacked foods three hundred and sixty degrees, moving with the times. What better way to celebrate eleven years of activity if not reward themselves with a new website?".
"It was a very ambitious project because we wanted to make a modern site for easy reference. A tool that speaks clearly to both operators and final consumers, who purchase our raw materials in the stores of the unpacked food. The site is evolving and therefore, after that first phase that sees it online now by early March, we will begin to put a lot of other content such as recipes and information on raw materials and their further use. "
Good luck to this young company and the whole food bulk market!
FOR INFO:
BIOSTOCK Ltd.
Via Fratelli Rosselli, 5 - Capalle, Campi Bisenzio (FI)
Tel 0558969434 - Fax 0558969416
http://www.biostock.it/