---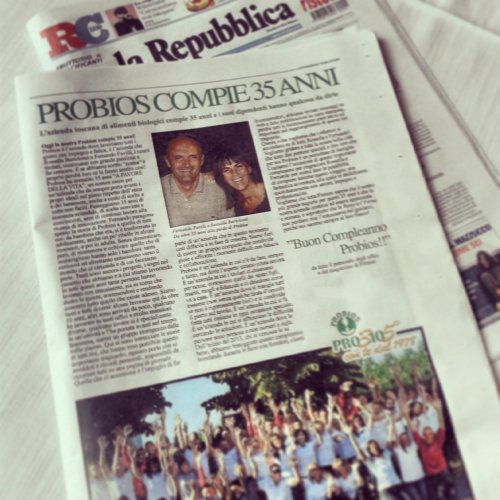 Happy Birthday Probios: a year of celebrations!
2013 has been an important year for us, we celebrated our 35 years during the fairs, meetings, dinners and at every possible opportunity.
During the festival organized at the Museum Stibbert October 12, we received a precious gift: opening the regional section of the newspaper La Repubblica we discovered that our employees had something to say ... Let's find out what.
"Today our Probios celebrates 35 years!
Probios is the company where we work every day with dedication and hard work, it is the company that Rossella Bartolozzi and Fernando Favilli, our owners, continue with great passion to grow. And if we wrote "our" is just because they make feel Probios this way!
Probios has invested 35 years "IN FAVOUR OF LIFE ", a nomen omen for a company that always carries out his ideals in full compliance with ethics and well-being, even at the cost of choices which are sometimes not that easy. We are celebrating 35 years of corporate consistency, convinced and convincing choices, years of continuous work in search of innovation.
Fernando often compares the story of Probios to that of all of us: as a child Probios was, Probios became a teenager, even a little rebel in a few moments, and then into adult. Not forgetting, however, to maintain and grow what only children have: curiosity and enthusiasm for the world around us and to which we belong. There are still many projects, the dreams that we have and we're working on.
In all these years, many people have worked with enthusiasm, both on stage and behind the scenes, supporting and making concrete everything that exists now. We are many and are all different: some have worked here for over 10 years, others are newly arrived, someone has worked in many offices and carried out different tasks, someone created a specified business, and brought it forward in time. In short, we are an heterogeneous group with a thousand resources. The stories of all of us are intertwined and have made possible this important goal; each of us carries with himself anecdotes and personal memories, impossible to bring all on a newspaper page.
What unites us is the pride of being part of a company that in this difficult time is in the growth phase. We are proud to be a compact group that shares the joys and tackles the difficult times with confidence and cooperation.
Probios is a company in which there is to always something to do, but where the human aspect still counts. It is a company in which the owners call us by name, they know those of our children, husbands, wives and boyfriends and ask us how we are feeling. It is a company where you can eat all together (not without some reprimand if not strictly bio!) and share the dish on the table. It is a company where we celebrate all together in any special occasion. It is a company in which we deal with problems looking for solutions. It is a company where people are people and not numbers or abbreviations.
Since the beginning of 2013, who knows us knows, we celebrated this birthday toasting during the fairs with suppliers, customers and consumers, we sent messages on web and print publications, in order to let everybody have an active and important role in achieving this great goal.
This time we want to light up the spotlight on them, Fernando and Rossella! We want to shout to the whole of our beautiful city that these are two special people and tell them that for us Probios is a piece of the family. We take the occasion of this important anniversary to thank Rossella and Fernando for giving us the opportunity to make this journey together; a fantastic adventure, to which we dedicate ourselves daily with passion, commitment, and professionalism.
We want all of Florence know that our greatest hope for these 35 years is that our company continues to be appreciated and respected, and above all that Rossy and Ferna never lose the enthusiasm in guiding us, because we will always be by their side! "
Happy Birthday Probios !! from all the staff of the offices and warehouse of Florence