---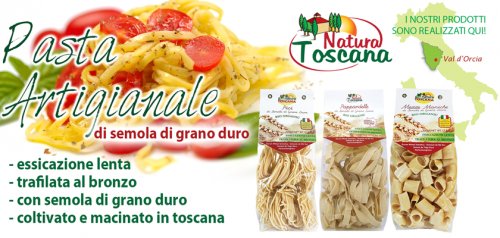 I always use your pasta, especially the one with the wheat grown in the Natural Park of Alberese branded Natura Toscana; but also the other varieties of spelled, kamut or senator hats. Sometimes I notice significant color differences, is this normal? I have also seen that not all formats are drawn in bronze, could you ask the manufacturer to always use bronze dies to ensure a high quality for all types?
We are happy that you appreciate our types of pasta.
We begin with clearing that the quality of the dough is given mainly by the characteristics of the grain and the water used. The wheat we use in our pasta is always organic and grown in Italy, for your favorite as you have emphasized, the raw material is grown in Tuscany.
The drying operation is critical to get a good pasta, nowadays pasta can not be dried in the sun as it was once, but you can get the same beautiful results without having haste and drying the pasta slowly at low temperature. Consider that in the case of pasta factory that produces pici, mezzemaniche, spaghetti alla chitarra and papardelle, drying can take up to 26 hours at temperatures lower than 50 ° C! This allows the almost unchanged conservation of the organoleptic characteristics and the taste of starch and gluten, without causing a precooking and subsequent "evaporation" of the protein components (in the industrial technology exsiccation is done at very high temperatures up to 110 ° C, and for a short time, for a maximum of 2 hours, obtaining an uniform product in color, with a surface called "ceramizzata").
The differences you have ascertained according to the color of the pasta may be due to several factors and are completely normal: differences of the raw material according to the crop, which fortunately is not standardized, the temperature and pressure of the water and for handmade pastas , also the climate temperature of the day of production.
The drawing instead is the phase in which the dough takes on the form and is achieved precisely with the bronze or teflon"die". The first type is used to obtain rough and porous formats able to absorb the sauce perfectly. The teflon die allows to obtain a paste with more intense color.
For some cereal or formats you can not use the bronze die as this would stain the product and worsen its performance in cooking.
write your questions to our office quality:
Questo indirizzo email è protetto dagli spambots. È necessario abilitare JavaScript per vederlo.