---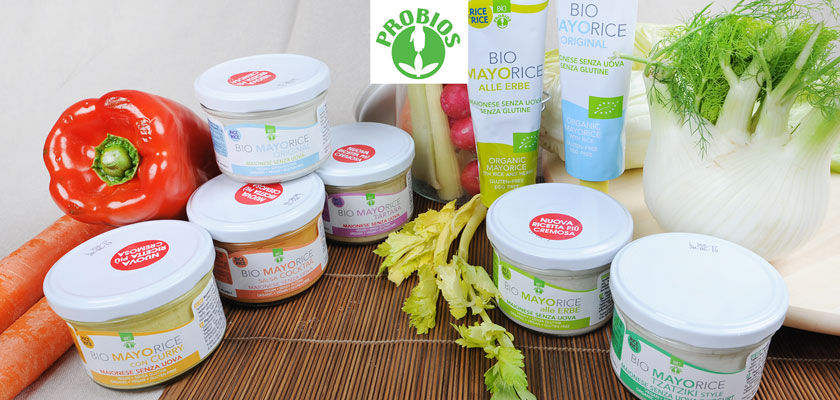 Today, we would like to do a little step back and look at 2017: a year that, for Probios, has been the celebration of a very important milestone, its 20th Gluten Free Years Anniversary, a goal that is now pushing us to look even further.
An extremely important success, both for us and for the whole gluten free history:
Probios has in fact been a pioneer in this sector
, launching every year many new tasty products and food designed for those who suffer from gluten intolerance or celiac disease.
E journey that started in 1997, and never stopped, increasing the assortment day by day and offering many new, tasty products perfect to satisfy the appetite during the whole day. Lately, we've been talking a lot about the new gluten free
Rice&Rice
Products, a brand that is the perfect vehicle to share our passion and our constant wish to innovate and be always better.
Therefore, we really wish to celebrate the
restyling of our Brand Rice&Rice
, created in 2000 and composed of many gluten free certified products:
Italian rice drinks
(natural and with calcium),
1kg Italian rice
,
pasta
,
biscuits, snacks
and
Mayorice
, a great and innovative mayonnaise-like rice based sauce, 100% plant based, winner in 2004 of the
Innovation Award at Biofach, Nuernberg
.
Unfortunately, nowadays "
gluten free
" is considered a trend, and we often tend t forget what this really means: the gluten free claim is now present on the label of many food and drink, with no logic connection to the origin and the meaning of its use. For this reason, we would like to help you clarify the theme: "
gluten free
" and "low gluten content" food, once considered as "
food for special diets
", are now severely regulated and controlled regarding the necessary claims and indication on the label.
Probios' range counts more than 450 gluten free certified products
, marked with the crossed ear label. Now,
Probios
can proudly confirm to be the
organic Italian company with the highest number of gluten free certified products
.
A milestone that makes us really proud and that represents for us the first step of a long journey that we chose to take twenty years ago, and that we still wish to continue, for the sake of all of our consumers.