---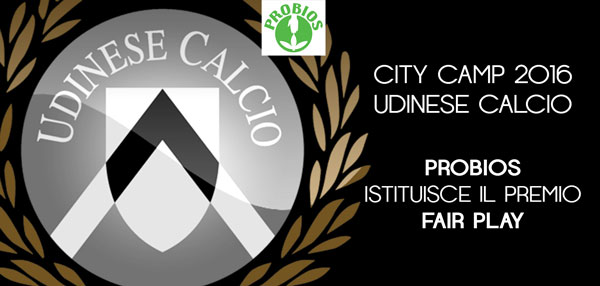 It's very important to pay attention to the diet and to always make sure it's correct and balanced if one wants to experience the joys that sports gives to us.
The guys from Udinese Official City Camp do no this well, an initiative of Udinese Calcio to introduce young people to this sport discipline.
Probios is the official sponsor of the event and founder of the
fair play prize
, a soccer ball and a supply of organic products that will be delivered to the boys who will be distinguished by healthy and correct principles.
For a champions performance you need a diet rich in vegetables. This is the opinion of
Gianfranco Beltrami
, president of the
Medical and Anti-Doping Commission IBAF
, a professor at the University of Parma and specialist in sports medicine, remindig the importance of a varied and balanced eat-ing habits. "
In recent years the sports nutrition has become more and more veg - Beltrami says - because it is more digestible and detoxifying
".[1]
To provide a balanced and 100% veggie diet, Probios has designed over 800 products that are organic, vegetarian, vegan, or for those with specific dietary requirements.
There are many athletes who have chosen a veg diet: from Carl Lewis to the Williams sisters, through the British boxer David Haye, the Italian Mirco Bergamasco (former star of the Italian na-tional rugby) and the Canadian skater Meagan Duhamel (silver medal in Sochi).
Eating well is important, but for keeping in shape it is important to practice sports regularly.
Among younger people, adolescents above all, there is a growing passion for sedentary and virtual games, which certainly do not increase the urge to run outside or swim in the pool. Only 34% of European adolescents aged between 13 and 15 are physically active: the levels of practiced physical activity begins to decline significantly between eleven and fifteen years of age, especially among girls. This contributes to the increase in overweight and obese children in Europe, especially among the most vulnerable socio-economic groups.[2]
For this reason Probios continues to undertake the promotion of
excercise and balanced diet
, good habits that you should learn from an early age on.
[1]SOURCE – Repubblica.it
[2]SOURCE – Datastampa.it