---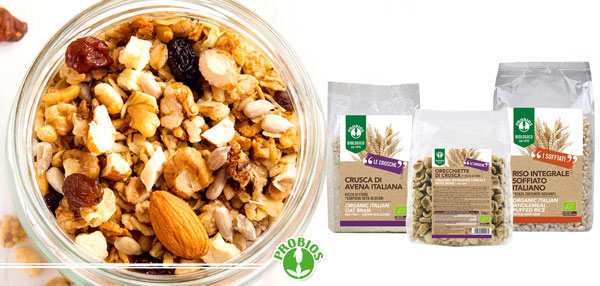 Last week we delighted you with tasty novelties that are well suited to the summer season, thus we decided to keep giving colour to your meals starting from breakfast. Indeed, to start the day with taste and with the right fuel necessary for our body is the first step towards a day of wellness.
Among the most consumed foods for breakfast we find mostly biscuits, melba toasts, jams and cereals: with the latter, in particular, it is possible to prepare some delicious and colorful
Breakfast bowls
, a real must-have for summer breakfasts. Called this way because they are served and prepared in a 'bowl', the breakfast bowls have a liquid base, such as soy milk or vegetable yogurt, that can be enriched with tasty cereals with muesli or oat, for example. We recommend the
Muesli Fruit Plus
, a mix of crunchy flakes rich in fiber and in  precious mineral salts, able to give a good dose of energy. Alternatively, you can also opt for the
Italian Oat Bran,
source of fiber and protein, or the new
Toppings with minced seeds
, rich in important nutrients. Cereals, seeds, vegetable drinks and alternatives to coffee, melba toasts, jams and compotes, biscuits, spreads ... discover with us your summer breakfast!
But the lightness does not end here ... Have you ever wondered what are the foods  to be preferred in this season?
- Carrots, a true cure for the skin
- Cucumbers, perfect as a side dish or in salads
- Cherries, one of the most irresistible summer fruits
- Watermelon, the unmistakable symbol of summer
- Fruits of the forest, also ideal to be enjoyed under the umbrella
- Peaches and apricots, with a delicious flavor
- Chilli, to give our dishes that extra touch
Of course, do not forget that it proper hydration is crucial in this time of the year but, most importantly, treat yourself an ice cream between a meal and another!